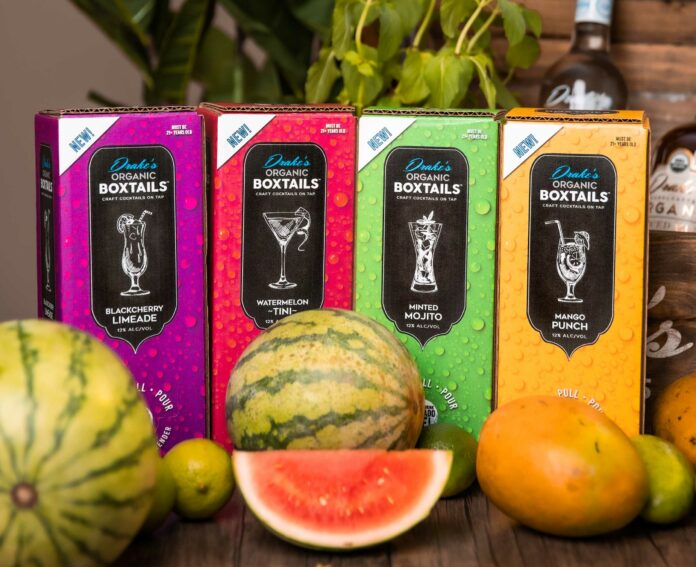 New canned alcoholic beverage options like hard seltzers, wine spritzers, and ready-to-drink (RTD) cocktails are being released on an increasing frequency, but as the aluminum can shortage deepens beverage companies are looking for more sustainable packaging options, including cardboard boxes.
Drake's Organic Spirits is jumping on the eco-friendly trend with its new line of Organic Boxtails. These pre-mixed craft cocktails feature Drake's® ultra premium organic certified vodka and rum, with less waste than a canned seltzer.
The RTD Boxtails come in Watermelon Tini, Mango Punch, Minted Mojito, and Black Cherry Limeade flavors. Each 1.75 liter box contains 12 percent alcohol, with a suggested retail price of $19.99. You can find retail locations on Drake's website. The Boxtails are certified USDA organic, gluten free, and non-GMO.
Along with hard seltzer, conveniently canned RTDs have also been rising in popularity lately. As bars and restaurants are still facing so many restrictions in light of the pandemic, more people are turning to RTDs as an alternative to the premium craft cocktails they used to enjoy onsite. Indeed, the category has grown by roughly 90 percent since we started feeling the effects of the virus.
"To get a great cocktail you've traditionally had to rely on—or be—a great mixologist. Drake's Organic Boxtails provide a convenient, shelf stable, portable option for cocktails that feature our award-winning, all-organic spirits with all five certifications," said Mark "Drake" Anderson, founder and CEO of Drake's Organic Spirits. "Drakes Organic Boxtails are a better choice for consumers and better for the environment."
Anderson founded the distillery in Minneapolis in 2017, with a mission to create spirits using the purest and healthiest ingredients. It is the "first and only spirits line in the world Certified USDA Organic, Gluten Free, Non-GMO Project Verified, vegan and kosher.
The drinks industry is taking notice of Drake's high quality standards, as its Organic Premium Vodka was awarded Double Gold while the Organic White Rum received Gold at the last Wine & Spirits Wholesalers of America (WSWA) Convention & Exposition.
Recently Drake and his team have been having fun while getting creative with its RTDs. In addition to the party-to-go Boxtails, Drake also released a line of alcoholic popsicles. Drake's Organic Spiked Ice contains 80 calories and a whopping 15 percent ABV per 100 millimeter freeze and eat pouch.
The boozy pops come in Vodka Lemonade, Mango Rum Punch, Classic Mojito, and Watermelon Martini. You can find them at select Target stores in California and Illinois.
In addition to its premium spirits and fun and innovative RTDs, Drake's also makes a line of organic mixers. The Bloody Mary (and HOT Bloody Mary!), Vodkarita, and Moscow Mule mixes all pair perfectly with Drake's premium liquors.
With their 12x distilling process, it's apparent that Anderson and company are passionate about making the highest quality spirits possible. As the founder says, "We hope you enjoy drinking our spirits as much as we have enjoyed our quest to make them." With such high standards, we can't wait to try the party-sized Boxtails.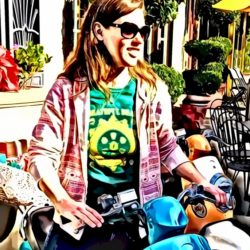 Latest posts by Erin Grafton
(see all)