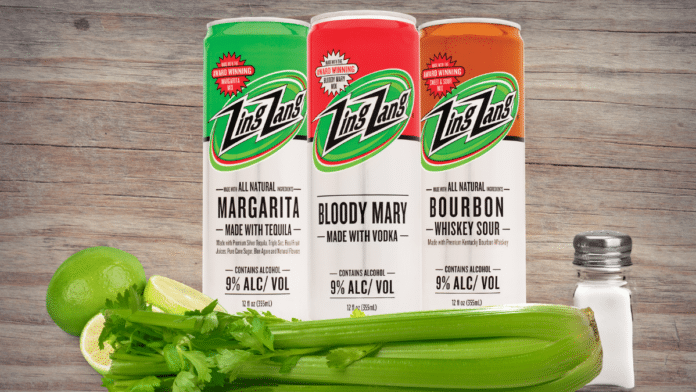 Chicago-based Zing Zang is debuting a line of RTDs, made with its own premium mixers and premium spirits, the company confirmed to Hard Seltzer News. This marks another mixer company turning to the hard side as sales of seltzers, spritzers, and ready-to-drink (RTD) canned cocktails continue to skyrocket.
The new RTDs contain nine percent ABV and the inaugural flavors include a tequila-based Margarita, a Bourbon Whiskey Sour, and a vodka Bloody Mary. Each can contains two servings of craft cocktail.
Zing Zang is already famous for its line of cocktail mixers, including the US's number one Bloody Mary mix. The line also includes a margarita mix, sweet and sour, piña colada, and strawberry daiquiri mixes.
The new RTDs mark a significant step for Zing Zang, as it will be the company's first product to be sold with alcohol already mixed in.
According to analysts at IWSR, the RTD category is currently valued at around $8 billion in the US alone, and its growth is "significantly outpacing beer, wine, and spirits." IWSR also predicts that they expect the category to increase by another 72 percent by 2024.
In the press release announcing the new drinks, Zing Zang CEO Brent Albertson nailed why RTDs are becoming increasingly popular.
"Consumers want bartender-quality cocktails that are convenient for at-home and on-the-go consumption. That's exactly what Zing Zang has always been known and trusted to deliver," said Albertson.
"Our new RTDs are real cocktails, made with our bold Zing Zang mixes and high-quality premium spirits, unlike most canned cocktail drinks and hard seltzers which are just watered-down malt or beer-based drinks."
Albertson came to Zing Zang after 29 years at the international spirits company Diageo, making him an ideal person to lead the company as it officially adds alcohol to its sales. Diageo has also been making significant moves into the RTD space, releasing two new canned martinis in the UK.
Based on some of its most popular spirits brands, consumers across the pond can enjoy the Gordon's Pink Martini and Smirnoff Passion Fruit Martini starting this month.
Diageo also released three Tanqueray gin RTDs in the US last month. Consumers in nine states can now buy canned Tanqueray Gin & Tonic, Tanqueray Rangpur Lime Gin & Soda, and Tanqueray Sevilla Orange Gin & Soda.
Distribution Plans
Zing Zang's RTD canned cocktails will initially be released in 20 states, with distribution scheduled to expand in 2021. Its mixers are available for sale online, or you can use its store locator. Zing Zang's website also has some delicious recipes using its line of mixers.
The company told Hard Seltzer News they have partnered with National Beer Wine & Spirits distributors to sell products in both on-premise and off-premise channels. For their limited launch in 2020, they have secured distribution in Wal-Mart stores in Florida, Minnesota, and Missouri. All three varieties will be available at Total Wine & more, and their Bloody Mary cocktail will be available at Sam's Club locations.
Zing Zang plans a national launch in the first quarter of 2021. Retail outlets will include Wal-Mart, Kroger, Safeway/Vons/Albertsons and other local regional chains.
Based on IWSR's analysis, Zing Zang couldn't have picked a better time to move into the booming RTD space. Demand for more convenient cocktails that customers can enjoy at home is on the rise, particularly as so many bars and restaurants still face closures and other restrictions due to the COVID-19 pandemic.
As winter sets in and outside dining options are limited, expect to see even more people trying to recreate their favorite bar or restaurant experiences at home. Thankfully we have companies like Zing Zang rising to the occasion and trying to make this winter a little less stressful.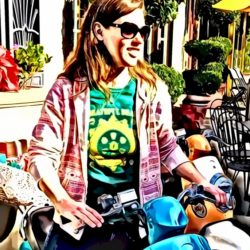 Latest posts by Erin Grafton
(see all)