Texas' "oldest craft brewery" appears ready to roll out a new product line. Hard Seltzer News has learned of a trademark application by Saint Arnold Brewery to register the name "Superfine" for a hard seltzer, perhaps as a reference to the bubbles.
According to the trademark application, the name "Superfine" will cover Saint Arnold's upcoming line of hard seltzers as the brewery looks to expand its beer alternatives. Saint Arnold also makes several varieties of hard cider, which tend to be higher in sugar and calories than spiked seltzer. A lighter, lower calorie and sugar alcowater would round out its portfolio nicely.
As consumer preferences are rapidly changing, more small and midsize breweries are turning to hard seltzer to meet demand. Craft beer is losing an increasingly large share of its market to the spiked and sparkling crowd, which continues to grow as new options hit the market. Adding a hard seltzer to the lineup is a way to stay relevant that requires relatively little overhead if you're already equipped to brew beer and cider.
Founded in Houston in 1994 by Brock Wagner and Kevin Bartol, the brewery is named after the patron saint of brewing, Saint Arnulf of Metz. Named 2017's Mid Size Brewery of the Year, it has a devoted local following that helps spread the brewery's gospel in Texas, as Saint Arnold relies on guerrilla marketing to promote its brews. The brewery uses creative methods to raise both awareness of its product and capital, such as auctioning the naming rights to its brewing vessels via eBay.
Saint Arnold has also created a unique Recycle Rewards program where consumers are invited to exchange usable bottle carriers for promotional merchandise. Eight carriers will get you a Saint Arnold can koozie or a candle, whereas a tee shirt costs 100 carriers. The most expensive prize in the gallery is the Saint Arnold Tie-Dyed 1957 Bentley at 200,000 can carriers, although the brewery promises to raise the cost if anyone gets close.
While we're not certain when Saint Arnold will release its new drink, we are sure that the Houston brewery will create a craft seltzer worthy of the name Superfine. With its release, Saint Arnold would join another iconic Texas brewery entering the hard seltzer rodeo; Spoetzl brewery's Shiner released Straight Shooter earlier this year, a craft brewed hard seltzer with a uniquely Texan aesthetic.
Along with barbecue and craft vodka, Texas is quickly establishing itself as a hard seltzer hot spot. In addition to Shiner's Straight Shooter and Saint Arnold's upcoming Superfine, the Lone Star State is also home to Lone River Beverage Company, which launched its hard seltzer Ranch Water in May. A seltzer made with lime and 100 percent pure agave, Ranch Water is already gaining a cult following on social media and among Nashville's country music elite.
Luckily for the rest of us hard seltzer aficionados, there is plenty of room in Texas – and the burgeoning spiked and sparkling market – for plenty of options. We're excited to see how Saint Arnold helps define Texas hard seltzer, as the future looks Superfine indeed.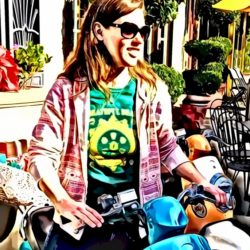 Latest posts by Erin Grafton
(see all)