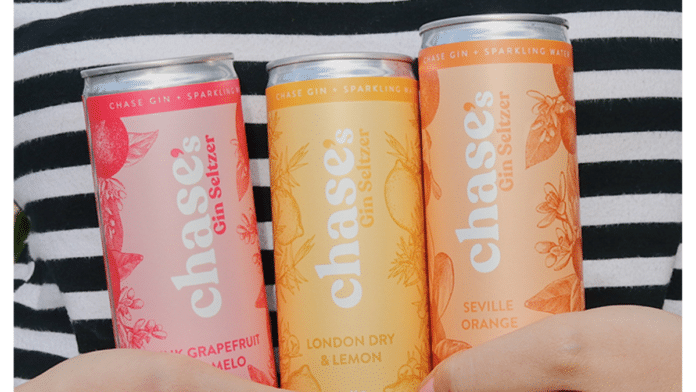 International spirits company Diageo just agreed to acquire a new distillery – and the deal comes with Chase's Gin Seltzer. Chase Distillery was founded by William Chase in 2008 and focuses on sustainable production.  Chase's Potato Vodka is their signature spirit, with claims to fame in a San Francisco competition 10 years ago.
The UK-based company takes a unique "grain-to-glass" approach to its spirits, using many ingredients grown directly on its own farm, including potatoes, apples, and other botanicals. Chase Distillery's portfolio currently includes seven gins, four vodkas, and an elderflower liqueur.
Chase also added an exciting new line of products in July – a gin-based ready-to-drink (RTD) canned cocktail. Chase's Gin Seltzer is available in London Dry & Lemonade, Pink Grapefruit & Pomelo, and Seville Orange. Each 250 ml can contains 89 calories and 5% ABV.
The acquisition is a big deal for Chase, which has its eye on expanding its portfolio of canned cocktails.  It's expected to be completed in Q1 2021.  BGF Private Equity was able to exit their investment in Chase with the transaction.  Gurinder Sunner, head of BGF's Midlands office in Birmingham, England, oversaw the deal alongside BGF investor, Joanne Smith.
"It's inspiring to have Diageo invest in Chase Distillery's future. They believe in the potential of our field to bottle spirits and will build on our mission to develop our sustainable distillery in Herefordshire," founder William Chase said of the deal.
It promises to be a symbiotic partnership for both companies, as Diageo has been on a mission to expand its portfolio recently, particularly in the RTD space. The spirits company recently released two new canned cocktails based on its popular brands: Gordon's Pink Martini and Smirnoff Passion Fruit Martini hit UK stores last month.
"We are thrilled to be bringing such a quintessentially British portfolio of high-quality, crafted brands into our family," said Dayalan Nayager, managing director for Diageo Great Britain.
"We are excited about the growth opportunity within the premium-plus segment and are very much looking forward to working with the Chase team to build on the portfolio's considerable potential."
In addition to the distillery, William Chase also founded Tyrrells Crisps. Originally a farmer by trade, both endeavors were born of the need to process his excess potato crops. William's son James, the distillery's global brand ambassador, explained the connection.
"We were coming back from a trip to America to buy more crisp-frying equipment, and going through Manhattan we saw the rise of craft distillers. It was just after 2006/7 when the US government relaxed the rules on distilling," the younger Chase said.
"We also had a huge surplus of small potatoes. They were too small to make into crisps and too wonky to sell to the supermarkets. We thought rather than feed them to cattle, why don't we build a distillery, although it took a long time to get a license."
Originally focused on crafting potato vodka (each bottle contains 250 spuds!), Chase added gin to its lineup in its second year of business. According to research data from IWSR, the UK is Europe's largest gin market, growing over 17 percent between 2014 and 2019.
Chase's Gin Seltzer is the perfect way to showcase the company's craft spirits. "Consumers are becoming increasingly health-conscious and for those seeking a low-calorie alternative to wine, beer and cider, Chase's gin seltzers are ideal," said James Chase.
"The range is designed for those active, on-the-go individuals that want to enjoy a drink without compromising their healthy lifestyle."
Chase's spirits, including its Elderflower Liqueur, are available for sale on its Drizly.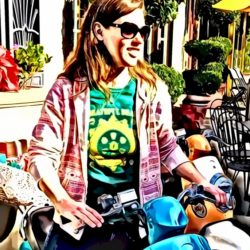 Latest posts by Erin Grafton
(see all)