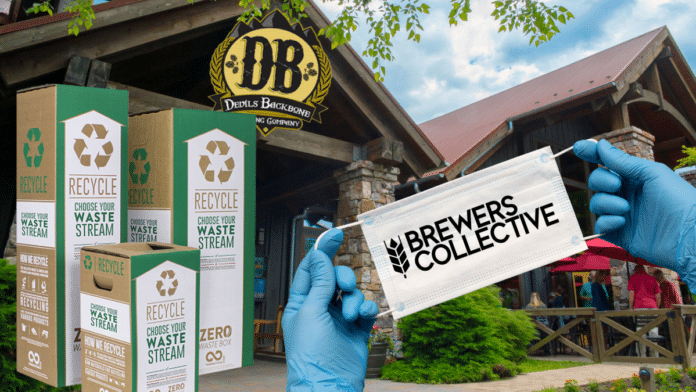 The Brewers Collective, which includes Karbach Ranch Water hard seltzer and Devils Backbone's Orange Smash canned cocktails, announced a partnership with TerraCycle to promote proper recycling of personal protective equipment (PPE) materials, including single use masks and gloves.
As part of the deal, Brewers Collective has installed TerraCycle recycling boxes at 18 craft breweries across the US, such as Devils Backbones sprawling facility in Roseland, Virginia.  Once the boxes are full of masks and gloves, they will be returned to TerraCycle for recycling.
The recycled PPE will be "cleaned, melted, and processed into a raw material that can be used to make new products, such as composite decking, outdoor furniture, and reusable shipping pallets," according to a joint statement from the companies.
Americans are using approximately 45 million masks per day, according to a 2020 estimate from John Hopkins University. Yet most of these masks are not approved for traditional recycling bins, leading to an increase in PPE litter.
"Sustainability has always been a core focus for our company and our craft brewery partners, and this past year presented a new and unique set of environmental challenges for our industry overall. By partnering with TerraCycle, we are addressing the very time-sensitive issue of safely recycling our brewery PPE, while also creating a solution that supports the larger community," said Marcelo "Mika" Michaelis, CEO and president of the Brewers Collective.
Select breweries will also be offering a "Pints for PPE" program, where customers are invited to exchange their recycled PPE items for incentives such as gift cards and brewery merchandise. Look for details on "Pints for PPE" events on participating collective members' social media.
"TerraCycle's mission has always been to 'Eliminate the Idea of Waste' and provide solutions for items that seem difficult to recycle, such as disposable masks and gloves," says Sue Kauffman, TerraCycle's North American public relations manager.
"Through the launch of this recycling initiative, Anheuser-Busch's Brewers Collective is doing its part to tackle the growing impact of PPE waste in local communities and helping create a more sustainable world for future generations."
Both the TerraCycle recycling boxes and "Pints for PPE" program are in line with Brewers Collective "ongoing investments in the long-term health of our environment and our communities."
A-B is also committed to increasing its broader sustainability efforts. Of the company's recently announced $1 billion infrastructure investment, $100 million is earmarked for eco-friendly upgrades including "solar panel installments, water treatment, and other similar initiatives," the company said in a statement.
The initiative will also invest in A-B's hard seltzer production, allowing the beverage company to increase its output of spiked and sparkling beverages.
A-B's partner organization, TerraCycle, is an innovative organization, committed to "eliminating the idea of waste." The company offers free recycling programs that are "funded by brands, manufacturers, and retailers around the world to help you collect and recycle your hard-to-recycle waste."
Consumers are invited to search and join these creative recycling programs and start collecting the corresponding materials. TerraCycle provides free shipping labels, and participants can even earn points to benefit their favorite school or non-profit.
PPE waste is a rarely discussed symptom of public health in a once-in-a-century pandemic. TerraCycle and the Brewers Collective are making the solution easy and delicious.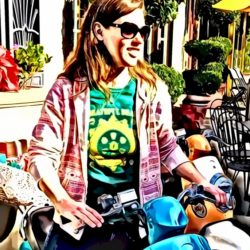 Latest posts by Erin Grafton
(see all)