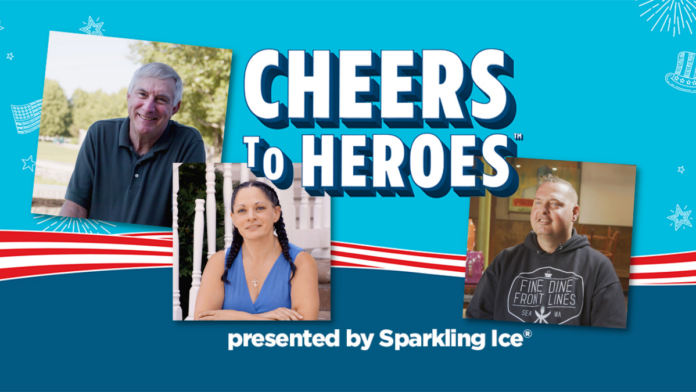 Talking Rain Beverage Company, makers of Sparkling Ice and Sparkling Ice Spiked, is honoring American heroes.  For the second consecutive year, the company is sponsoring its Cheers to Heroes contest, which is designed to "champion America's everyday heroes from across the nation," according to a statement announcing the selection of three finalists.
The finalists "are being honored for their support and continued dedication to their local communities," said Talking Rain. The winner will receive a $10,000 cash prize, while first, second, and third place winners will receive prizes of $7,500, $5,000, and $500, respectively.
A total of 300 nominees will also receive the third place prize of $500, "as a way to celebrate even more heroes for their community service," the brand said. Altogether, Talking Rain Beverage Company will give away over $170,000 in cash to local heroes.
The person who nominated the grand prize winner will also receive a $500 prize.
The three finalists include Kay Menashe of Ozone Park, NY; Michael Bayer of Ballston Lake, NY; and Ryan Dwyer of Kenmore, WA. Ms. Menashe started a community library in her front yard after the COVID-19 pandemic forced local ones to close.
Mr. Bayer, a veteran who served in the US Navy for 25 years, continues to serve his community in retirement. He volunteers at his local food pantry as well as the cemetery, where he organizes processionals for fellow vets.
Mr. Dwyer started a non-profit called Fine Dine Front Lines (FDFL), which provides restaurant meals to hospital workers. Mr. Dwyer started the organization as a way to thank the healthcare workers who helped his stepdaughter through her cancer treatment. He has meanwhile been battling leukemia since May of 2019.
You can cast your vote online for one of the three finalists and read their full stories now through the end of July. The winner will be announced on August 13.
Sparkling Ice teamed up with three time Olympic gold medalist Gabby Douglas in April of this year in order to kick off the second annual event.
The company received thousands of nominations between April and May, from over 905 communities across the nation. The nominees are "highlighting everyday heroes ranging from first line responders, community activists, teachers, office managers, doctors, nurses, friends, neighbors and more, for the notable and heroic work they've done in their communities," Talking Rain reported.
"Now, Sparkling Ice is asking America to join them in celebrating these everyday heroes by voting for one of the following finalists."
Talking Rain's best selling brand, Sparkling Ice, is made with "sparkling water, real fruit flavor, vitamins, antioxidants, and naturally sourced colors." The original Sparkling Ice is available in 23 different fizzy flavors as well as a line of caffeinated sparkling water.
Last year the company released Sparkling Ice Spiked, its first hard seltzer. It is available in a 12 pack featuring Cherry Lime Chiller, Lemonade Refresher, Ruby Fizz, and Strawberry Citrus Smash.
On the lighter end of the hard seltzer spectrum, Spiked Sparkling Ice continues in its parent company's tradition of offering better-for-you options. Each 12 oz. can contains 4% ABV, 1 gram of carbs, zero sugar, and only 80 calories.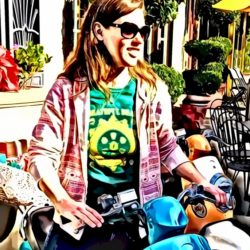 Latest posts by Erin Grafton
(see all)