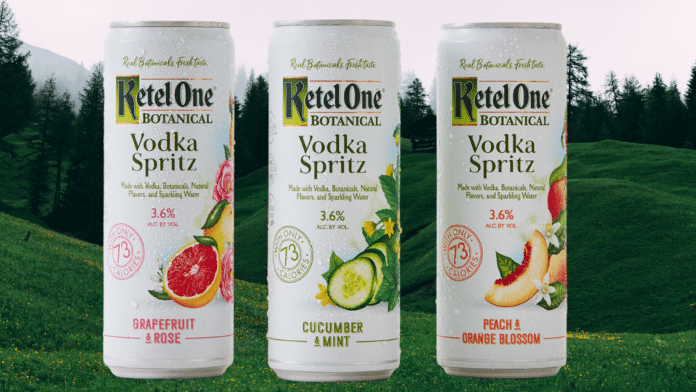 Holland's Ketel One vodka just released one of the lightest ready-to-drink (RTD) cocktails on the market. The low calorie, low ABV drink is based on the company's successful line of botanical infused vodkas.
The first of its kind Ketel One Botanical Vodka Spritz's ingredient list includes no carbs, no added sugar, and no artificial flavors or sweeteners. The RTD is made from 100% non-GMO grain and contains only 73 calories per serving with an ABV of 3.6 percent.
The new Vodka Spritzes come in three flavors based on the popular vodka line: Cucumber & Mint, Grapefruit & Rose, and Peach & Orange Blossom. Ketel One introduced its Botanical vodkas in 2018 and it quickly became the "Number One Best-Selling New Spirit" of that year, according to market research company Nielsen.
Ketel One is owned by a family of 11th generation distillers, led by Carl Nolet Jr. and Bob Nolet. Each batch of Ketel One vodka is taste tested and approved by a member of the Nolet family, who founded their distillery in 1691. The Nolet family disrupted the vodka space two years ago with the release of its botanical infused vodkas, and now they are trying to conquer the "better-for-you"  RTD category.
One of the reasons hard seltzers and RTDs have taken off in popularity is that they offer consumers a lighter, healthier option with lower calories and lower alcohol. RTD sales are up 100 percent in off-premise sales (i.e. purchased at a grocery or liquor store to be consumed at home) since 2019, and Ketel One is aiming to be the smartest option for the health conscious consumer.
"We created Ketel One Botanical to appeal to the conscious consumer. We care as deeply about what goes into every bottle, as they care deeply about what they are eating and drinking. That sentiment rings truer than ever in a world where caring for ourselves and each other is a priority, and ease without sacrificing quality is so important," said Carl Nolet Jr.
"Honoring our family's legacy of 'quality over everything' while responding to a strong need for convenience, we are thrilled to launch our Ketel One Botanical Vodka Spritz. It's the same fresh taste and delightful experience consumers expect from Ketel One in a new and exciting format."
Bob Nolet touched on the convenience of RTDs. We live in complicated times, and being able to buy premade canned cocktails can make life just a bit easier, and perhaps a tad more fun during a stressful point in history.
"We're excited to introduce this convenient, craft experience that's inspired by what we created with Ketel One Botanical, and one that always echoes our 'quality over everything' motto, now fit for a variety of occasions – from moments of relaxation with family, to spending a safe and socially-distanced day at the pool or park," said Bob Nolet.
While many new seltzer companies are looking to introduce higher ABV, imperial seltzers, it's nice to see such a low calorie, sugar and carb free option entering the space.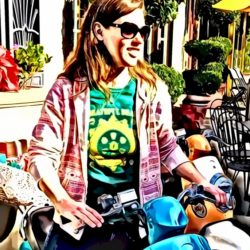 Latest posts by Erin Grafton
(see all)