Helping the environment has never tasted so good.
Molson Coors just introduced Coors Hard Seltzer, which it bills as a "hard seltzer with a mission." Its mission is water conservation, and Molson Coors aims to make a splash with its debut.
According to a press release from the company, "Coors Seltzer was crafted with a mission to help save America's rivers, with every 12-pack sold restoring 500 gallons of water." The beverage company has pledged to restore a minimum of one billion gallons during its inaugural year.
Long committed to sustainability, Coors Hard Seltzer is partnering with Change the Course, a program run by the Bonneville Environmental Foundation committed to water restoration and conservation projects. According to Molson Coors, it is "the leading national corporate water restoration and engagement campaign."
The partnership "will first target 16 iconic river basins within 14 states, including projects for the Colorado, Missouri, Sacramento, and Chicago Rivers," and will of course have a presence in the Rockies.
Coors Hard Seltzer aims to engage consumers in its water conservation efforts while introducing them to its eponymous hard seltzer. In order to help neutralize the water drank this year by hard seltzer fans, the company is giving away "175,000 12-packs to restore all of that hard seltzer volume consumed."
Legal-drinking-age (LDA) consumers can visit Coors Hard Seltzer's Volunteer Program to sign up and receive a discount on your first 12-pack. The rebate value varies by state depending on local laws; customers in some states will receive the full price, others will receive half price, and it is void where prohibited.
Fifty percent off of a 12-pack while helping to restore 500 gallons of river water is still a pretty great deal. In addition to picking up your first 12-pack, Coors Hard Seltzer is also giving away a year's supply to one lucky LDA customer through its Coors Seltzer Volunteer Social Sweepstakes.
To enter, follow Coors Seltzer on Instagram or Twitter. Share a photograph of yourself engaged in a volunteer activity and tag it #CoorsSeltzerSweeps (if entering via Instagram, also tag @CoorsSeltzer). The winner will receive $500 to buy Coors Seltzer for the year and will get to choose a river conservation partner to receive an additional $1,000 donation. Complete contest rules and regulations can be found here.
Coors acknowledges that its volunteer program is low stakes, but sees its conservation efforts as a way to set its seltzer apart in a crowded market while still spreading some good.
"If you want to change something in the world, you can't ask people to change their lives to provoke that change," said Paco Conde, founder and creative lead at Activista, the agency who developed the creative for Coors. "The most effective way to engage and inspire people is to leverage something they are already doing and pivot that action into a helping act. That's the idea behind the Coors Seltzer Volunteer Program."
Coors Hard Seltzer is available in Black Cherry, Grapefruit, Lemon Lime, and Mango. Each flavor contains 90 calories per 12 ounce skinny can, 4.5 percent ABV, and is certified gluten-free.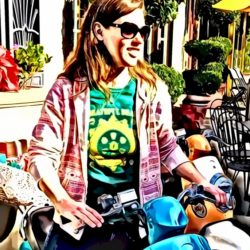 Latest posts by Erin Grafton
(see all)