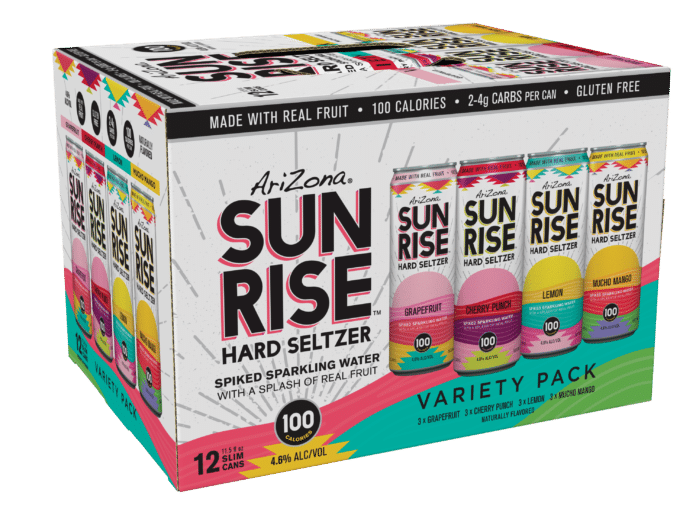 Famous iced tea and juice brand AriZona Beverages will launch an exciting new hard seltzer, SunRise, in 2021.  Heineken USA and Hornell Brewing Company, a privately held company which is affiliated with AriZona, are joining forces to bring SunRise Hard Seltzer to consumers.
AriZona SunRise Hard Seltzer will be available in four flavors, inspired by the company's popular juices: Mucho Mango, Cherry Punch, Lemon, and Grapefruit. All varieties are gluten-free, low in carbs at only 2 to 4 grams per can, and contain no added sugar.
Each 11.5 ounce can contains 100 calories and 4.6 percent ABV. Legal-drinking-age (LDA) consumers will be able to buy a variety pack featuring all four flavors, and individual 19.2 ounce single-serve cans.
Moving into the hard beverage space marks significant growth for AriZona Beverages, but the company has chosen a solid partner in Heineken that can help navigate the complex world of alcohol distribution.
"As both family-owned companies and brand building powerhouses, there are many synergies between Heineken and AriZona, making this a winning partnership to bring our unique seltzer proposition to the market," said AriZona Chairman Don Vultaggio.
"AriZona is an iconic player in the beverage industry, famous for bringing delicious and all-natural non-alcoholic products to diverse consumers across the United States and worldwide. Heineken USA brings strong relationships with the distributor network in the United States and extensive manufacturing and brand building expertise in alcohol. Together, we teamed up to both do what we do best. We intend to broaden the appeal of Hard Seltzer by bringing more people to the party."
The alliance is also a big step for Heineken, who introduced its first crossover hard seltzer this week. Called Bask, it is billed as an IPA style seltzer meant to bring craft beer purists into the space. Bask is currently available in the initial test markets of Boston and San Diego, and comes in Blood Orange, Lemon, and the beer forward Original Hops.
"We're excited to be working with AriZona to introduce the next evolution of Hard Seltzer. Most of the current Hard Seltzers on the market are clear, with similar flavor profiles, so we jointly saw an opportunity to add a splash of fruit to the category as we know consumers are looking for real ingredients and great taste," said Jonnie Cahill, chief marketing officer for Heineken USA.
"We also believe AriZona SunRise Hard Seltzer is about broadening the appeal of seltzer. The current hard seltzers on the market have very similar positioning and we wanted to offer a range of tastes to appeal to a wide array of people. We are looking forward to bringing the fun of AriZona to the table. AriZona Sunrise Hard Seltzer brings everyone (21+) to the party with a product that puts great taste at the center."
With hard seltzer's recent spike in popularity, many traditional soft drink companies are experimenting with hard beverages. Coca-Cola just released Topo Chico Hard Seltzer in Mexico and Brazil, with US markets to follow early next year.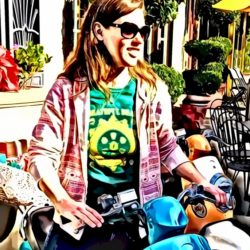 Latest posts by Erin Grafton
(see all)