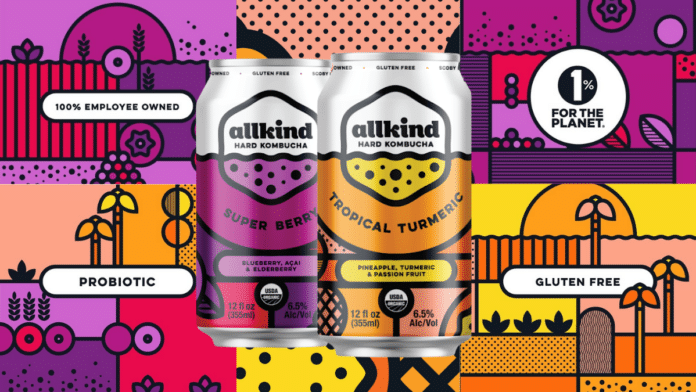 Odell Brewing Company's Allkind Hard Kombucha is now available in two varieties at the Colorado brewery's taproom and select outlets in the state, poised for national expansion.
The Tropical Turmeric variety contains fresh pineapple, passion fruit, and turmeric. You'll find bright tropical and juicy notes with a subtle earthiness and vibrant orange color from the turmeric. This one's got a nice kombucha tang and lemony tartness. Coming in at 6.5%, Tropical Turmeric is bright, bubbly, with perceived sweetness upfront that finishes dry and beckons for another sip.
Super Berry is packed with fresh blueberry, raspberry, elderberry, and açai. These superberries make for bright aromas of berry pie and fresh jam. Allkind threw in a dash of ginger to compliment the light kombucha funk. This one is bright and bubbly with a clean, dry finish.
Kombucha is brewed with tea so it's naturally gluten free. Allkind Hard Kombucha also meets official guidelines set by the Gluten-Free Certification Organization (GFCO). 100% Gluten Free Friendly!
Distribution to Conscious Outlets
Allkind Hard Kombucha is now available in 16oz singles and 6-packs of 12 ounce cans, each containing 135 calories. Distribution plans include Trader Joe's, Whole Foods, and bottle shops across Colorado and beyond.
Allkind Hard Kombucha is made with organic ingredients. They only use fresh fruit and juices, not from concentrate, and no artificial sweeteners. ⁠ In addition to the 100% organic ingredients, the brewery's process of manufacturing follows USDA guidelines for organic foods and beverages.
⁠
Probiotic Benefits
Traditional kombucha contains natural probiotics that can be good for your gut health. Allkind is brewed with a lab-supported, SCOBY fermentation process that maintains these probiotics.
Employee Owned
Founded by Wynne and Doug Odell, the company is 100% employee-owned, and has been since 2015, when they sold the majority of the company to its workers in a management buyout and Employee Stock Ownership Program. "We show up every day and brew kombucha our way, with kindness to ourselves, each other, and the planet," the company boasts on social media.
1% for the Planet
Allkind is part of the 1% for the Planet coalition, joining over 300 other businesses and individuals to give 1% of annual revenue to environmental causes.
Fort Collins Taproom
The company's taproom in Fort Collins, Colorado, remains open with extreme measure to prevent the spread of the coronavirus. The Front Range location serves about 20 beers and sours on draft, and Allkind Hard Kombucha is served in 16 ounce cans.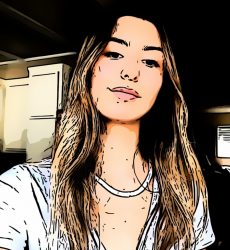 Latest posts by Caroline Hill
(see all)