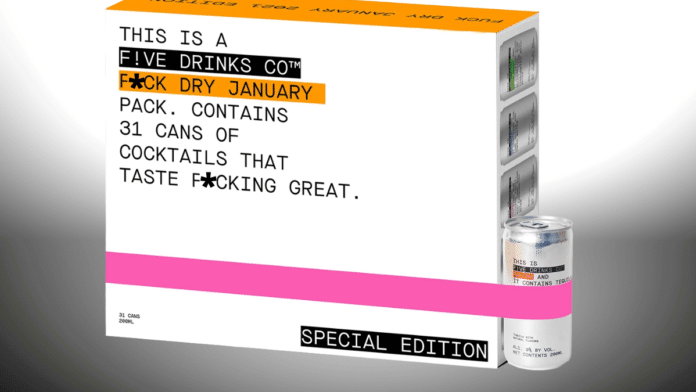 Although 2021 is only 10 days old, it has been eventful to say the least. While many people are participating in Dry January and voluntarily giving up alcohol this month, Five Drinks Co. understands if you would rather skip it under the circumstances; the company is saying "F*ck Dry January!" with its special (tongue-in-cheek) limited edition 31-pack of ready-to-drink (RTD) F!VE Drinks canned cocktails, one for each day of the month.
Not too late to start
You can enjoy one cocktail every day if you didn't get your fill of hard seltzer advent calendars in December, or just joining the party mid-month. The 31-pack includes fan favorites like the Gin & Tonic, Moscow Mule, Margarita, Mojito, Paloma, and Watermelon Vodka Soda. ABV ranges from 5.9 to 11 percent.
If you're wondering what a box designed for 31 cans looks like, it is actually advertised as a box of 30 with one bonus cocktail strapped to the side, which seems fitting given the month we're having.
As F!VE Drinks says in its announcement of the campaign, "life has been hard enough in 2020 and we all deserve a drink. The F*CK DRY JANUARY pack is a limited edition pack to help get us through January – and the pandemic – slump."
Enjoy at home virtually with friends
The creative cocktail variety pack is meant to make this difficult month a little more enjoyable. While we may not be able to go to our favorite bar and spend time with friends, the 31-pack is meant to help ease our pain by making it easier to recreate the experience at home. You and your besties can each get a pack and meet over Zoom while drinking your favorite craft cocktails.
F!VE Drinks was founded based on a simple quest: to create "a cocktail without bullsh*t." It is committed to creating bar quality cocktails with complex flavors, made with natural ingredients and no artificial preservatives.
The company is so proud of its simple and clean ingredient list that it not only displays each cocktail's ingredients, it's actually incorporated them into the packaging. Each sleek, minimalist design states the cocktail name on top, followed by all of its contents, listed stylishly in a typewriter font.
If its clean label isn't enough, F!VE Drinks is also committed to using sustainable packaging to craft its aluminum cans.
Where to buy Five Drinks
These trendy cocktails are available in stores and Drizly online. Four packs range from $9.99 to $13.99.  On the Five Drinks website, there is a flat rate of $10 for shipping on all online orders.
While taking a sobriety break can be beneficial for your health, F!VE Drinks understands if this is not the easiest month to go on the wagon. If you need a consistently good, bar quality cocktail to get you through the evening news, try one of its "no bullsh*t" cocktails.
Maybe give the sobriety month another try in February; we'll be able to enjoy a bit more daylight, and it is the shortest month of the year.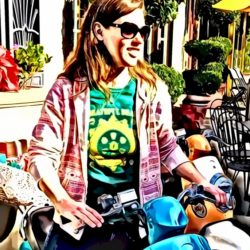 Latest posts by Erin Grafton
(see all)