Game Time Beverages is set to launch Game Up, an innovative new hard seltzer with three electrolytes and real fruit. Distribution will begin in Spring 2021. "Game Up combines the best of sports drinks and hard seltzers in an innovative new challenger brand," the company said in a release.  Fans can follow progress on the company's website and newly established Instagram account.
Game Up is the result of combined efforts by industry veterans
Michael Kantrow and Brian Flatow, Co-founders of Game Time Beverages, helped build some of the beverage alcohol industry's most iconic brands.  The duo boasts tenures with agencies working on brands like mike's hard lemonade, Michelob Ultra, Dos Equis, Stella Artois, McCallan, Hennessey, Bombay Sapphire, Evian, Vitamin Water, Coca-Cola, ABInBev, Danone, Diageo and Nestle.  The two built Game Time with a strategic plan to ramp and scale.
Kantrow and Flatow drafted two industry experts to invest in and advise the new company:  Dave Holmes, Co-founder of hard seltzer pioneer SpikedSeltzer, and Harris Damashek, former Global Brand and Creative Director of the craft and specialties category at Anheuser-Busch (NYSE: BUD).
FX/Matt Brewing, with a rich brewing history that dates back to 1914, is the brewing and production partner.
"We saw the hard seltzer game really heating up, but as people who love a kick ass workout and a refreshing adult beverage or two after, we just couldn't find what we were looking for. Hints of flavor and high carbonation just didn't cut it," said Kantrow. "So we started hacking a 'better-for-you' version of our own and people really loved it. With our liquid and the brand we created, we think we've got a real shot at rookie of the year."
Hard Seltzer Meets Sports Drink
Game Up hard seltzer will launch in 12 ounce cans, each containing 100 calories, 2 grams of carbs, 1 gram of sugar and 4.9% ABV — the basic roster for a leading hard seltzer.  The difference is in the electrolytes and slightly lower carbonation, the "Hard Hydration" aspect of Game Up.   The sports-themed branded product contains electrolytes from sodium, magnesium and potassium.
Variety 12-packs of its two initial flavors, Orange and Lemon Lime, will initially be available in New York, Connecticut, New Jersey, and Massachusetts.
Additional flavors are already in development. 
Real fruit in the formula contributes to the seltzer's flavor and color.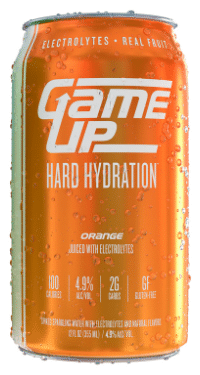 "If your favorite sports drink and favorite hard seltzer had a baby, it would be Game Up," said Flatow.
"But make no mistake, this is no sports drink – it's a thirst-quenching adult beverage," Flatow said via a release. "A drink that's drinkable and perfect after late-night ice hockey, a legit hike, a challenging yoga class, while hucking cornhole bags or even just sweating it out by the pool."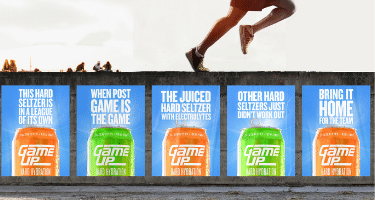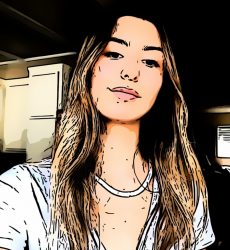 Latest posts by Caroline Hill
(see all)