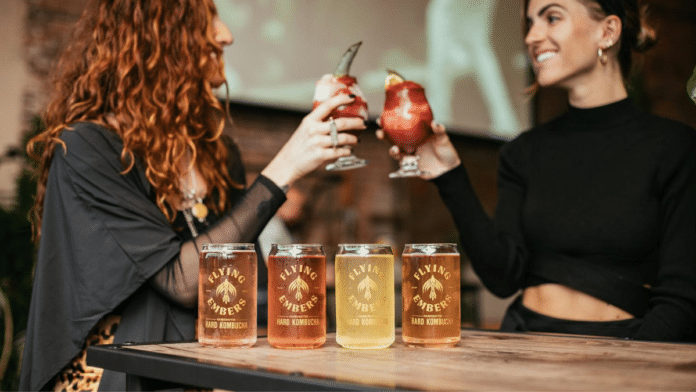 The Ventura-based hard kombucha brewer, Flying Embers, quietly opened a location in Los Angeles this fall. The new Arts District location, dubbed The Flying Embers Brewery & Social Club, is now offering up hard kombucha, hard seltzer and experimental beer selections for on-location consumption and for take-away. 
In addition to on-tap and canned Flying Embers selections, the location is also offering spins on cocktails called "booch-tails." Bartenders mix drinks with Flying Embers brews to provide lower alcohol base for custom cocktails. An extensive non-alcoholic cocktail selection is also available on-site, according to the Flying Embers LA Instagram page. 
For this new L.A. location, Flying Embers secured Jeremy Czuleger, former head brewer at at a brewery in San Pedro to oversee the hard kombucha, hard seltzer and experimental beer brewed on-location. The company also has a staff herbalist and specialty brewer on hand who is experimenting with herb-infused brews, elixirs, syrups, and ferments. 
Compliant Logistics at the New Brewpub
Due to current COVID-19 compliance laws in Los Angeles County, taprooms cannot provide on-premise service unless food is also offered. Taking advantage of this stipulation, Flying Embers L.A. Brewery & Social Club has partnered up with Comfort L.A. in order to serve up a food menu comprised of comfort and soul food dishes.
In the true spirit of a social (distanced) club, customers will be temperature checked at the door and must follow social distancing rules in order to enjoy Flying Embers on their open-air dock and patio seating areas.
Arts District, home to some of Los Angeles' hottest restaurants and bars has become a small hub for craft brewers in the last few years. The mostly commercial neighborhood is also home to the Angel City brewing facilities and taproom, as well as Arts District Brewing. 
Variety of Flavors
The company currently offers six varieties of hard seltzer: passionfruit elderflower, clementine hibiscus, black cherry rose, pineapple cayenne, watermelon chili, and guava jalapeño.  Hard kombucha varieties include lemon, berry, grapefruit, pineapple chili, black cherry, and ginger.   The alchemists and mixologists at the new taproom are sure to exponentially expand that lineup.
Flying Embers Rose from the Ashes
Flying Embers was founded three years ago in Ojai, CA with its main brewing facility in Ventura, CA. The brewery was born from the ashes of the immense Thomas Fire which ravaged Ventura and Santa Barbara Counties in 2017 into 2018 and left thousands of people with destroyed homes and businesses.
Deeply impacted by the community tragedy, Flying Embers is committed to donating a portion of their proceeds to firefighters and first responders. This September, the company raised funds for the Oregon fire crisis during a week-long fund drive in which 100% of sales were sent to support those affected by fires. 
"As a better-for-you alcohol brand, the fastest way for us to act quickly and amplify our impact is to work with our fans and industry partners to support these causes," Flying Embers said in a statement on their website.  
As California toughs out another long, rough fire season, Los Angeles is happy to welcome Flying Embers, their brews and their cause into the city.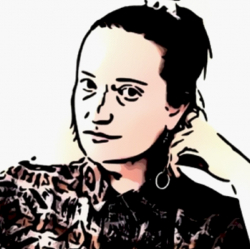 Latest posts by Stephanie Meade
(see all)