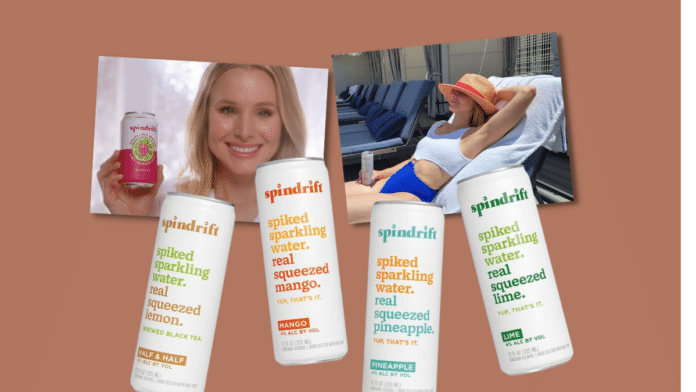 Kristen Bell is a Spindrift "superfan." The Good Place and Frozen actress has starred in several of the sparkling water's most memorable ad campaigns since 2018. Earlier this year the company launched Spindrift Spiked, a line of hard seltzers made with real fruit juice, and it looks like Bell will be reprising her role as brand ambassador.
On Thursday of last week the actress posted a giveaway in collaboration with Spindrift's new hard seltzer line on her Instagram page. The corresponding picture shows Bell lounging by the pool in a monokini cut swimsuit and sun hat while enjoying a Spindrift Spiked. The picture racked up almost 300k likes and the contest, which has since ended, received thousands of entries.
Spindrift Spiked, which like its soft seltzer sibling is based in Newton, MA, launched this April in select markets including New England and Southern California. The company plans to expand its distribution footprint soon.
The hard seltzer brand's website states, "We like our drinks like we like our fruit. Real. Which is why we took everything we learned about making Spindrift and set out to create an equally delicious spiked version."
Kristen Bell loves Spindrift but you don't have to be Veronica Mars to figure out why Spindrift's fruit flavors are so bold.
Founder and CEO Bill Creelman launched Spindrift Sparkling Water in 2010. It was the first sparkling water in the country to be made solely with squeezed fruit. The beverage now comes in 14 fruit-filled flavors including Pineapple, Lime, Cranberry, Raspberry, Half & Half (half black tea, half lemon juice), Strawberry, Grapefruit, Blackberry, Cucumber, Lemon, Mango, Raspberry Lime, Strawberry Lemonade, Pink Lemonade and Lemon Limeade. Each flavor contains no more than 17 calories from the fresh squeezed juices. There is no alcohol in Spindrift's original line of sparkling water.
Spindrift Spiked comes in four fruit flavors including Pineapple, Lime, Mango, and Half & Half. All flavors are made with alcohol from fermented cane sugar and real squeezed fruit juice. They contain an ABV of 4% and between 82-95 calories per 12 ounce can.
In 2019 Caroline Kibler, Spindrift's Senior Vice President for Brand and Marketing talked to Forbes about partnering with Bell. Kibler insisted, "We are delighted to have Kristen on board as someone who lives our core value of authenticity and shares our brand of humor. Unlike other brands that rely heavily on gimmicks to tell their story, at Spindrift we prefer to keep it real, and no one is better at telling it like it is in a relatable way than Kristen. It is important to us that we work with people who are genuine fans of the brand and our product."
In an effort to produce the highest quality beverages, many hard seltzer companies like Spindrift Spiked are opting for real fruit juice instead of vague "natural flavors.' For instance, Ficks Real Fruit Hard Seltzers are made with fresh ingredients like cold-pressed blackberries, mango puree, squeezed rio-red grapefruit and cold-pressed cranberries. The company even uses oranges as the fermentation base for its hard seltzers. Ficks flavors contain 100 calories, no more than 3 grams of carbs and an ABV of 5%.
Founders Mas Agave is another company that uses true fruit ingredients. Each can of Founders contains 110 calories, an ABV of 4.5%. The brand uses premium blue agave nectar and, of course, real fruit juices like lime, strawberry and grapefruit.
High Noon Sun Sips also boasts real fruit juice as well as real vodka. Each can of High Noon contains 100 calories, an ABV of 4.5% and no added sugars. Juices include pineapple, grapefruit, lime, peach, watermelon, black cherry, mango and passionfruit. According to BackBar, the largest alcohol inventory management platform, High Noon controls the third largest amount of the hard seltzer market share in on-premise locations after White Claw and Truly, a testament to the demand for real ingredients.
We look forward to hearing more from Kristen Bell and Spindrift Spiked as the brand continues to grow.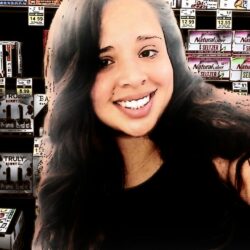 Latest posts by Shirani Jayasuriya
(see all)