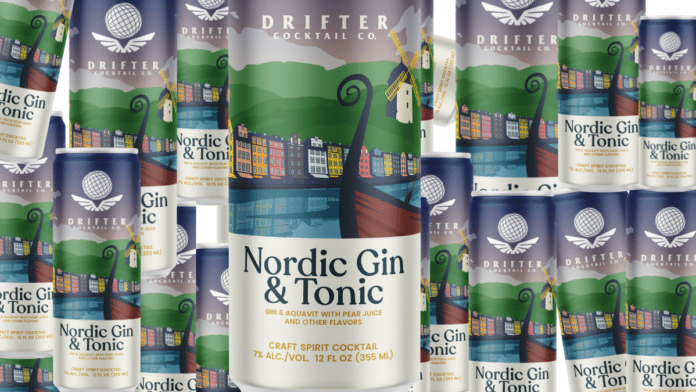 Drifter Cocktail Company is expanding its lineup of canned craft cocktails to include the Nordic-Style Gin & Tonic. The new ready-to-drink (RTD) beverage joins Drifter's family of cocktails "inspired by global spirits and drink traditions."
Drifter's motto is "each can is a stamp on your passport." In that spirit, the company is committed to showcasing underrepresented alcohols and international flavors. The brand's Nordic-Style Gin & Tonic is no exception to this rule. Drifter teamed up with Steva Casey, a mixologist with two decades worth of experience tending bar in venues around the globe, to create a new and worldly take on the Gin & Tonic.
Casey's version of the classic cocktail is unique in that, in addition to gin, it also features another botanical-forward spirit–aquavit. Aquavit is a gin-adjacent spirit with historic Scandinavian roots dating back as far as the early 1500s. Unlike gin, which has a distinctive juniper flavor, aquavit typically features caraway or dill seed. Casey chose to utilize an herbaceous aquavit produced by Drifter Spirits, Svöl Danish Style Aquavit.
To create the Nordic-Style Gin & Tonic, Svöl Aquavit is expertly balanced with Perry's Tot Navy Strength Gin from Brooklyn, New York, pear juice from Guangdong, China and allspice from Oxnard, California. Luckily, fans of the upgraded Gin & Tonic need not be master bartenders to enjoy one. The premium canned cocktail comes premixed and can be effortlessly consumed chilled or over ice.
"I was honored to collaborate with Drifter Craft Cocktails to develop a fresh take on the classic gin and tonic cocktail," insisted Casey, who has become known as 'the den mother of craft bartenders' in Birmingham, Alabama, where she currently resides. "The delicate pear and warming allspice in this recipe offer a unique combination with aquavit which is not so different from your favorite gin – a spirit with distinct notes of herbs and botanicals. The Nordic Style Gin & Tonic is my ode to Southern and Nordic hospitality with new flavors for people to discover."
Drifter's initial releases, which included the Passion Fruit Caipirinha, the Spicy Margarita and the Moscow Mule, debuted in June. Like the brand's newest addition, they were each developed in partnership with a top bartender. Drifters canned cocktail offerings always feature real spirits and all-natural ingredients from all over the world.
In addition to the brand's canned cocktails and Svöl Aquavit, Drifter Spirits also provides a nomadic home to Gagliardo Bitter Radicale and Avuá Cachaça. Cachaça is a traditional Brazilian spirit produced from the juice of fermented sugarcane.
The team at Drifter is eager to continue their global journey with the new Nordic-Style Gin & Tonic. "Drifter Craft Cocktails launched five months ago, and we've had an incredible response selling in to 22 states and shipping nationwide," stated the brand's co-founder, Pete Nevenglosky. "Our bartender-created collection offers transparency on where we source ingredients and what goes into your glass. We look forward to expanding our collection with some of the most recognizable names in cocktails and bar culture."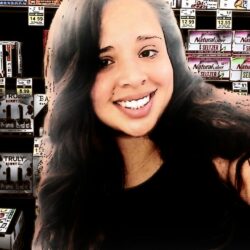 Latest posts by Shirani Jayasuriya
(see all)