World Kombucha Day is Sunday, February 21, and ten of the top hard booch brands have teamed up to celebrate in a big way. Typically competitors, these companies are banding together to celebrate the emerging category and raise awareness of this unique spiked and sparkling beverage.
The hard kombucha collective includes the following beverage companies: Boochcraft, Flying Embers Hard Kombucha, Jiant Hard Kombucha, Kombrewcha, KYLA Hard Kombucha, Local Roots Kombucha, Luna Bay Booch, Nova Easy Kombucha, Strainge Beast Hard Kombucha, and WILD TONIC® Jun Kombucha.
For those new to the world of kombucha, it is an "effervescent drink made by fermenting tea, with hard kombucha taking it a step further with an additional round of fermentation," according to a statement from the collective.
Kombucha is made with a live SCOBY, which is an acronym for Symbiotic Culture Of Bacteria and Yeast. Fruits and botanicals can be added during the fermentation process to create a wide variety of flavors.
The booch bash runs through February 21 and will include "a series of social media posts, robust influencer collaboration, and targeted digital media, aimed to both educate and engage," the collective promises.
Legal-drinking-age (LDA) fans are also invited to enter giveaways via social media. Each company will give away brand specific prizes to a lucky fan, and one grand prize winner will receive "a variety of swag, apparel, glassware and gift cards."
Hard kombucha has been growing in popularity as more consumers look to "better-for-you" alcoholic options. Whole Foods even named it as one of its Top Trends for 2021. The grocery chain said "hard kombucha checks all the boxes: it's gluten-free, it's super bubbly and can be filled with live probiotic cultures. Cheers to that!"
Hard Kombucha Competitors Rally Together
Kombucha's live probiotics (lactic-acid bacteria, to be precise) are great for gut health, and promote symbiosis. The collective of ten brands – putting aside competition to celebrate and spread awareness of the growing genre – illustrate that hard kombucha is truly a symbiotic beverage; greater awareness of the segment will help all of the different brands in the long run.
"It's amazing to see how the leading kombucha brands in the US are coming together and leaving the competitiveness aside to celebrate World Kombucha Day," said Tiago Carneiro, founder and CEO of Nova Easy Kombucha.
"We're happy to be raising awareness to the hard kombucha industry while working alongside great brands that think and share the same passion towards this healthy alternative beverage. Just like a well-known proverb would say, 'If you want to go fast, go alone; if you want to go far, go together.'"
Kyle Oliver, lead R&D scientist at Boochcraft, agreed. "Innovation may start from a singular entity (in our case the SCOBY); but it grows powerful through a collective passion to do better," Oliver said.
"Boochcraft is proud to stand together with the exceptional High Alcohol Kombucha brands on World Kombucha Day. We are a community as unique and diverse as the SCOBYs used in our processes, and what we have built together could not be more incredible."
Treat yourself to a hard kombucha this Sunday, and celebrate the power of symbiosis.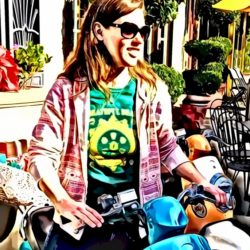 Latest posts by Erin Grafton
(see all)