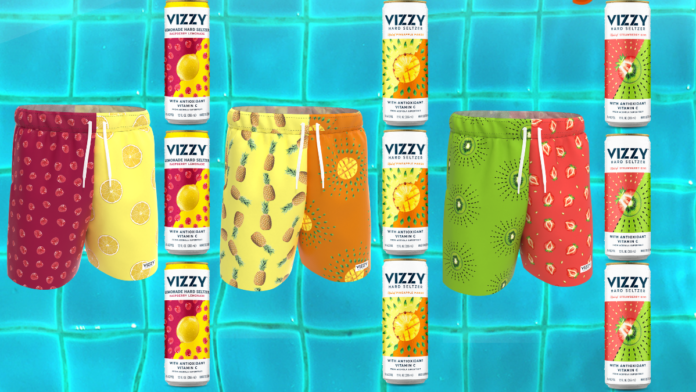 Seltzer szn is coming in hot and Vizzy is determined to help its fans beat the heat in style. The bubbly beverage is releasing a limited edition line of scented swimwear inspired by its fruit-focused flavor combinations. In an Instagram post, the brand promises you'll "look (and smell) like a snack on the beach this summer with new Vizzy scented swimwear."
The brand's body-inclusive Seltzer Szn Swimwear comes in three "flavors" including Strawberry Kiwi, Pineapple Mango and Raspberry Lemonade. Each of the three fruit combo designs are available as a one-piece for women, and as swim trunks.
The swimwear is "scented like your favorite Vizzy flavors" and, according to a press release, its "cutting-edge fabric technology brings Vizzy's fruit-flavor mashups to life for a full sensory experience."
Women's Suits
The one-pieces each have their own unique style. The Strawberry Kiwi suit features a split pattern, one shoulder design and an angled cut-out at the midsection.
The Pineapple Mango version is also split patterned, one side of the suit is pineapple and the other side is mango, and it has a halter top.
The Raspberry Lemonade suit is a cheerful yellow color, and is patterned with alternating lemon slices and raspberries. The midsection is sheer, giving it a two-piece effect. All of the swim trunks are split patterned with each leg representing a different fruit.
Vizzy Hard Seltzer is Owned by Molson Coors
Molson Coors Beverage Company launched Vizzy Hard Seltzer in the spring of last year when much of the country was stuck at home quarantining. With hard seltzers flooding the market, Vizzy has set itself apart from the crowd with the addition of antioxidant vitamin C. The brand contains acerola cherry, a superfruit rich in vitamins and antioxidants. Acerola cherries are packed with approximately 30 times more vitamin C per cup than standard oranges.
The addition of vitamins and antioxidants is a distinguishing feature for Vizzy. The antioxidant vitamin C in Vizzy is a welcome addition for health-conscious consumers and one that proved to be particularly appealing during the pandemic when people were focused on boosting their vitamin intake.
Vizzy comes in eight fruit combinations including Blueberry Pomegranate, Strawberry Kiwi, Black Cherry Lime, Pineapple Mango, Watermelon Strawberry, Raspberry Tangerine, Papaya Passionfruit, Blackberry Lemon. Each 12 ounce can of seltzer contains 100 calories, 2 grams of carbs, 1 gram of sugar and an ABV of 5%.
Vizzy also recently debuted a line of hard seltzer lemonade in four flavors including Raspberry Lemonade, Strawberry Lemonade, Peach Lemonade and Watermelon Lemonade. Each 12 ounce can of Vizzy Lemonade Hard Seltzer contains 100 calories, 2 grams of carbs, no sugar and an ABV of 5%.
Vizzy's standard line up contains 20% of the recommended daily intake of vitamin C per serving, while its lemonade flavors contain 21%. All Vizzy varieties are certified gluten free.
Last year Vizzy made Nielsen's Top 10 Growth Brands list.
Molson Coors and Hard Seltzer
Parent company Molson Coors will likely be heavily invested in the seltzer's future, as just last week the beverage alcohol company announced it would be discontinuing the production of Coors Seltzer in the US.  The company said that without Coors Seltzer, they would be able to put more focus on Vizzy.
Molson also produces and distributes Topo Chico Hard Seltzer as part of a distribution agreement with The Coca-Cola Company.
Vizzy's Seltzer Szn Swimwear will be available July 16th at 9 AM CDT on vizzyswimwear.com. Each piece will sell for $40. The brand cautioned fans to act fast as it produced about 200 total swimsuits and will only be selling them while supplies last.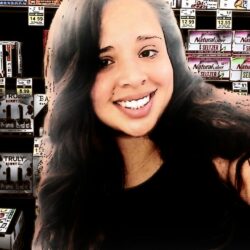 Latest posts by Shirani Jayasuriya
(see all)