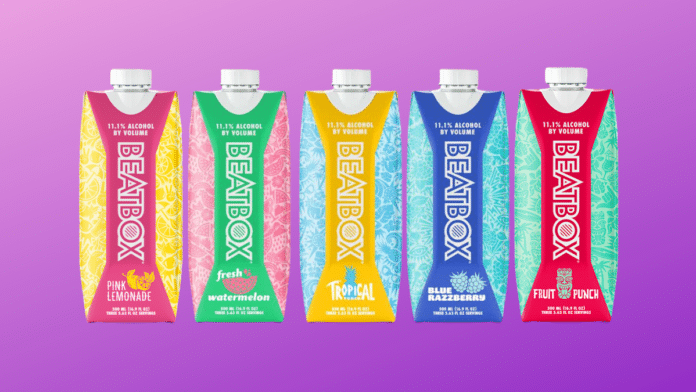 As the aluminum can shortage deepens, one company's innovation is paying off in a big way; BeatBox Beverages, as the name implies, come in boxes instead of the traditional can.
Founded in 2011 by three college students, Austin, TX based BeatBox Beverages are sold in a 500 millileter, single-serve box. Aimed at the millennial market, it comes in Blue Razzberry, Fruit Punch, Fresh Watermelon, Pink Lemonade, and Tropical Punch.
Every box of the wine-based cocktail contains 11.1 percent ABV, and BeatBox boasts that each box contains the equivalent of four light beers. If that seems a little strong BeatBox offers mixing suggestions on its website for each of the flavors.
BeatBox is rolling out a new flavor this month as well: Peach Punch, which cofounder and CMO Brad Schultz says has long been a request of their fans.
"Peach has been one of the most requested flavors for years. We took peach rings candy as inspiration to make a delicious 11 percent alcohol peach drink with seven grams of sugar. It's easy to drink straight up, over ice, or mix it with hard teas to make boozy peach tea," says Schultz.
The party cocktail's bold flavors made the beverage company a hit with fans and investors alike. The brand received a $1 million investment from Mark Cuban after appearing on Shark Tank in 2014. Cuban immediately picked up on the vibe of the company, saying "You don't sell wine, you sell fun."
And indeed, the BeatBox team is trying to expand the fun. "We are working with WeFunder to enable all our fans to be co-owners in our brands," the team recently told Forbes.
In order to enable this goal, the cofounders created Future/Proof, the now parent company of BeatBox, designed to foster partnerships and collaborations across the drinks industry.
According to the company's website, "Future/Proof was founded on the belief that future generations will continue to demand products that authentically connect with their lifestyle. Our mission is to create cutting-edge beverage brands that speak to innovative individuals."
Other Future/Proof brands include Brizzy Seltzer Cocktail and CØRKLESS California wines. Both Brizzy and CØRKLESS come in cans rather than BeatBox's trademark box. CØRKLESS has an inspired environmental message, as the company has pledged to plant one tree for every dollar in sales of the canned wine.
Co-Founder and COO Aimy Steadman spoke to Forbes about the company's exciting expansions.
"We discovered we were creating this authentic brand and winning not just with consumers but also with our trade partners from beer distributors to retailers, because we were answering some of the needs they had from a business perspective," Steadman said. "We are now creating a platform where we can go after any category we want to."
"The sky's the limit with Future/Proof," added Schultz. "It gave us the opportunity to position ourselves in the industry as a much larger disruptor. Whether it's partnerships, new brands, or even with non-alcohol, as CBD trends, we have solid footing."
Given the success of BeatBox, we're eager to see which category Future/Proof disrupts next.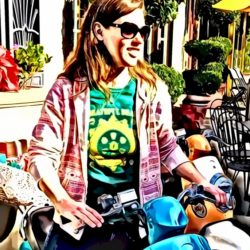 Latest posts by Erin Grafton
(see all)