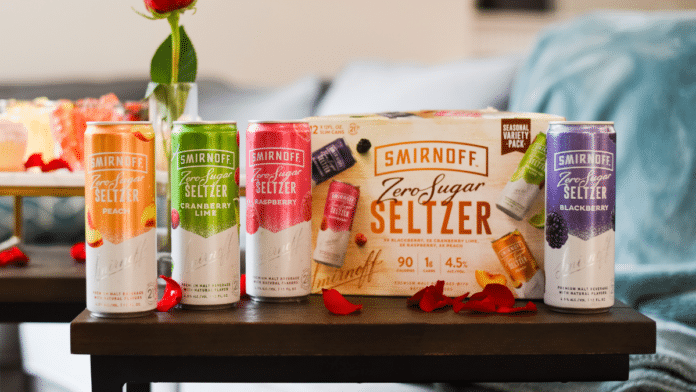 Smirnoff is releasing two new hard seltzer variety packs, which include two returning fan favorites and six brand new flavors.
The new core variety pack includes new flavors Black Cherry, Lemon Lime, Orange, and the return of Berry Lemonade, which is so popular it won the honor of Product of the Year for 2018.
The limited edition fall pack contains the new seasonal flavors Peach, Raspberry, Blackberry, and Cranberry Lime, which is making an encore.  A representative for Smirnoff told Hard Seltzer News that the "seasonal fall pack will be around while supplies remain until the springtime."
All eight ready-to-drink (RTD) flavors contain 90 calories per 12 ounce can, one gram of carbs, and zero sugar. Both variety packs will be available for sale starting this month, with a suggested retail price of $15.99 per 12 pack.
In order to promote the two new variety packs, Smirnoff is continuing its partnership with ABC's popular reality show The Bachelorette. With the launch of the "Can we Steal You for a Seltzer?!" campaign, Smirnoff is once again the official hard seltzer of Bachelor Nation.
The partnership between Smirnoff and Bachelor Nation officially launched in January of this year with the "Will you Accept this Rosé" campaign, which saw alum Mike Johnson surprising super fans by crashing launch parties in Chicago and New York.
While social distancing restrictions prohibit similar public watch parties from taking place this season, both companies still promise fans some fun bubbly surprises. According to the official press release, "Bachelor and Smirnoff Seltzer fans alike will be in for a treat as some familiar faces will begin popping up in their social feeds, at their virtual parties and during key moments throughout the season."
With more people drinking at home in light of local safety guidelines, RTDs are having a moment. According to Forbes, the category grew around 80 percent from April 2019 to April 2020.
The partnership has proven to be lucrative for Smirnoff, and the popular reality competition is a great platform with which to introduce its new flavors. According to the Hollywood Reporter, the show's sixteenth season debuted to an audience of 5.03 million viewers.
"The Bachelor franchise and Seltzer category both generate a lot of engaging conversation, so It only made sense to continue our partnership as 'The Official Hard Seltzer of Bachelor Nation,'" said Krista Kiisk, brand director for Smirnoff. "With our two new variety packs and six brand-new flavors, we are offering delicious flavors like Black Cherry and Lemon Lime, all with zero sugar that taste great. With these new offerings, the most dramatic decision fans will make while viewing on Tuesday nights is which flavor to choose."
Smirnoff's hard seltzer has embraced seasonal flavors previously. Over the summer it released the limited Red, White, & Berry flavored seltzer and corresponding vodka, which were crafted to taste like a bomb pop.
In addition to its RTDs, Smirnoff's No. 21 currently holds the title of world's best selling vodka. It also boasts the best selling line of flavored vodkas in North America.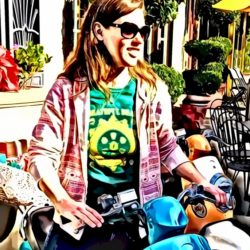 Latest posts by Erin Grafton
(see all)