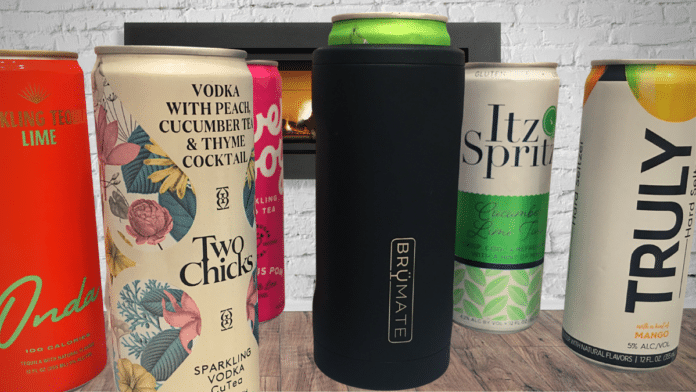 With gift giving season upon us, what do you get for the professional in the hard seltzer business? Or for the professional hard seltzer drinker? BrüMate, the insulated drinkware company, has a perfect option.
Meet the $20 BrüMate Hopsulator Slim – the world's first can cooler designed specifically for 12 ounce skinny cans. This triple insulated, stainless steel beauty works with all 12 ounce slim cans and keeps drinks twenty times cooler than the standard can cooler. $20 for 2020
BrüMate Hopsulator Slim is designed to fit around the can, rather like a koozie, but is more effective at keeping your drink cold. Even more remarkable is that it manages to stay super chill without creating condensation, keeping you and your coffee table nice and dry.
The Hopsulator Slim starts at $19.99 and comes with a lifetime warranty. It features a non slip base to prevent party fouls from wasting your seltzer.
What color BrüMate is best?
The can cooler comes in fun, vibrant colors like Glitter Mermaid, Tie Dye, and even Walnut, which has a sophisticated wood grain finish. You can find it printed with camouflage or your favorite succulents.
We chose the matte black. Matte black is alluring, suave, civilized, and timeless.  It reflects very little light, drawing you in to enjoy its depth.  The artistic vibe of matte black won't clash with your craziest new can of hard seltzer, your ugly sweater, or your string bikini.  It's a touchable color, begging for you, yet leaving no evidence.
The company releases new colors on a regular basis, but seems to be happy with the current selection of 21 for 2020.  Those colors include aqua, blush, daisy, electric green, glitter aqua, glitter charcoal, glitter merlot, glitter mermaid, glitter peacock, glitter violet, glitter white, hunter orange, matte black, matte gray, matte navy, neon pink, rose gold, royal blue, stainless, textured camo, and walnut.
With so many innovative options and colors from which to choose, you're sure to find something for each of the drinks enthusiasts in your life. Note that some colors may be sold out for the season.  And some colors cost $25, rather than $20.  The best advice is to find one that you like and order before it's too late.
Brumate's Expanded Lineup
Given that social distancing guidelines look like they are here to stay through at least early 2021, why not invest in gifts which will make outdoor socializing easier and more comfortable? The company offers drinkware designed for beer, wine, or spirits.
Wine drinkers will appreciate this 25 ounce wine canteen to keep their favorite chardonnay or rosé appropriately chilled. For those who are missing draft drinks, BrüMate offers a vacuum insulated, 64 ounce Growl'r that is brewery approved. One of BrüMate's most innovative designs, however, is the MargTini insulated martini tumbler. The 10 ounce flared cocktail glass includes a splash proof lid.
The company even sells a backpack cooler. Named Backtap, the portable cooler can hold 14 skinny seltzer cans or 12 traditional squatty cans. You can even mix batch cocktails directly in the Backtap; true to its name, the cooler has a tap and doubles as a drink dispenser.
BrüMate makes holiday shopping even easier with customizable gift sets in three options: MargTini, Wine, or Growl'r. You can buy a matching set (featuring two drink appropriate tumblers and a Growl'r, wine canteen, or cocktail shaker) or select your own colors.
Founder is Forbes 30 under 30 Entrepreneur
Founded in 2016 by Chief Drinking Officer Dylan Jacob, a 2020 Forbes 30 under 30 member.  Jacob started the company to solve a problem – warm alcohol.
"When I first turned 21, I discovered that warm alcohol was the worst, setting off on a journey to find a solution for keeping my favorite adult beverages at the perfect temperature," Jacob said. "With just an idea and a dream, I concocted a plan to shake up the drinkware industry and change the way you enjoy your favorite adult beverages for the better."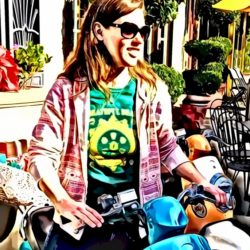 Latest posts by Erin Grafton
(see all)