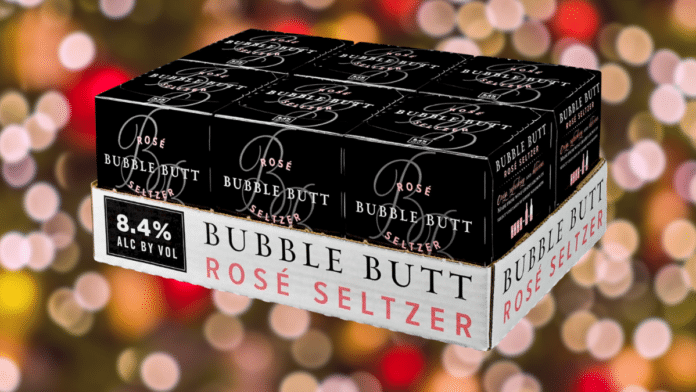 Guess what? Bubble Butt… is now available for sale online! The cheeky rosé seltzer is joining the growing ecommerce market for alcohol and consumers in the United Stated can purchase a case via the company's website.
Andrew Nelson, managing partner at Bubble Butt's parent company WarRoom Cellars, made the announcement in a post on LinkedIn.
"Three years ago we set out to make champagne in a can. We didn't succeed. Butt, we persevered. Traveling to Washington and Oregon, looking to Portugal, drinking Vinho Verde, drinking hard seltzer….the product evolved. Every year we improved," the announcement from Nelson said.
"Today we're so excited to announce Bubble Butt is now available online. Thank you to everyone involved in making this delightful product a reality."
Bubble Butt Rosé Seltzer is wise to expand into online sales, as it marries two of the biggest drinks trends in recent years: hard seltzer and rosé. Indeed, its profile straddles the space between the two categories.
With its 8.7 percent ABV, Bubble Butt is stronger than a traditional hard seltzer, which averages between 4 and 5 percent, and a glass of wine, which averages 11 to 12 percent (or higher, depending on the blend).
Each can contains 137 calories and 2.5 grams of sugar. Bubble Butt is vegan friendly and does not contain gluten (although they note that the production facility is not certified gluten-free).
Evan Nelson, director of sales for WarRoom, boasts that Bubble Butt "combines three fast-growing categories – rosé wine, sparkling wine, and hard seltzer, and we're canning it at super high carbonation levels, almost as much as Champagne."
The rise of more spiked and sparkling options includes canned wines, bubbly wine spritzers, and even champagne. The canned wine segment has nearly doubled since the onset of the COVID-19 pandemic in March of this year as consumers experiment with new products from the safety of home.
As so much socializing has moved outdoors lately, cans offer a more convenient way to enjoy wine outside as there are no stemmed glasses to break and no need for a corkscrew.
Although the spritzer is flirtatious in its branding, it aims to be a luxurious drink. A 24 pack of 250 ml cans sells for $84.99, which works out to about $14.17 per four pack, making it comparably priced to a mid-level bottle of wine. Legal-drinking-age (LDA) customers in California can enjoy free shipping on online orders.
In addition to Bubble Butt, WarRoom Cellars aims to preserve and protect heritage wine brands. The company also distributes Hallmark Channel Wines, the perfect companion to the channel's popular Christmas movies. Billed as "the heart of Christmas," Hallmark's wine is available in a red or white option – cabernet sauvignon and sauvignon blanc, respectively.
We are excited that Bubble Butt is expanding – right in time for New Year's Eve, aka prime time for champagne and other sparkling wines. Order a case today and share a "very nice can" with all of the cheeky friends in your life.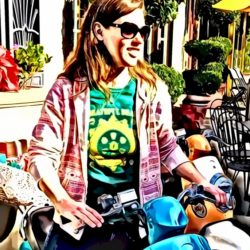 Latest posts by Erin Grafton
(see all)