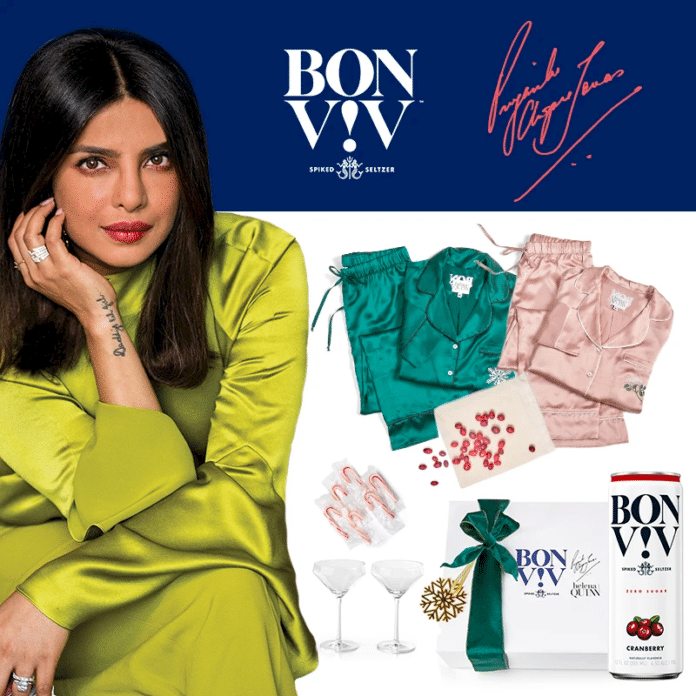 Priyanka Chopra Jonas and BON V!V have teamed up to release a curated holiday gift box, centered around a hard seltzer based holiday cocktail, the Candy Cane Crush.
Recognizing that the holidays look a little different this year (to put it incredibly mildly) due to the on-going COVID-19 pandemic, the gift box is centered around making holiday memories at home.
In addition to the cocktail ingredients and two glasses, each box contains a set of Helena Quinn silk pajamas and a $15 Minibar gift card. The limited edition gift boxes contain 100 percent silk pajamas ranging from size XS to XL.
As BON V!V's creative advisor, the beautifully curated gift boxes are the latest way Chopra Jonas has put her personal spin on the brand. The actress also took our unprecedented present into account when creating a gift box specifically for this most unusual holiday season.
"The holidays definitely look and feel different this year, but that doesn't mean we can't find new ways to celebrate…because this should always be a bright time of the year," said Priyanka Chopra Jonas.
"I put a Holiday Gift Box together that's all about celebrating me-time, with a custom pajama set perfect for relaxing on the couch (cute for holiday photo moments, too), along with a delicious signature cocktail featuring some of my favorite flavors. I know what I'll be gifting to everyone on my list this season! Happy Holidays."
The specially designed silk pajamas are available in two festive colors: an emerald green with a snowflake on the pocket that is inspired by Chopra Jonas' love of winter snowfall, and a champagne pair featuring elderflower, a nod to one of BON V!V's most popular flavors.
"When BON V!V and Priyanka came to us wanting to create pajama sets for spiked seltzer fans, we knew it had to be something special. We worked with BON V!V and Priyanka to design and create something unique to the brand that's perfect for the holiday season," said Andrea Racey, founder and designer of Helena Quinn.
"The Helena Quinn mission is to create affordable luxury, so rest assured we used only the finest and most durable silk fibers found in nature to bring this collection to life. Silk and spiked seltzer? The holiday season doesn't get any better than that."
The Candy Cane Crush cocktail features some clever Jonas family collaboration. The cocktail contains a can of Cranberry BON V!V, an ounce of pomegranate juice, and an ounce of silver tequila garnished with cranberries, rosemary, and a mini candy cane.
The recipe does not specify a brand of tequila, but for ultimate Jonas integration, fans can use Villa One, the tequila brand Chopra Jonas' husband Nick Jonas released with designer John Varvatos.
These luxurious, limited edition holiday pajamas are the perfect outfit for celebrating the season safely at home. If silk pajamas aren't really your thing, you can still whip up a batch of Candy Cane Crushes for your socially distant outdoor holiday gathering this year.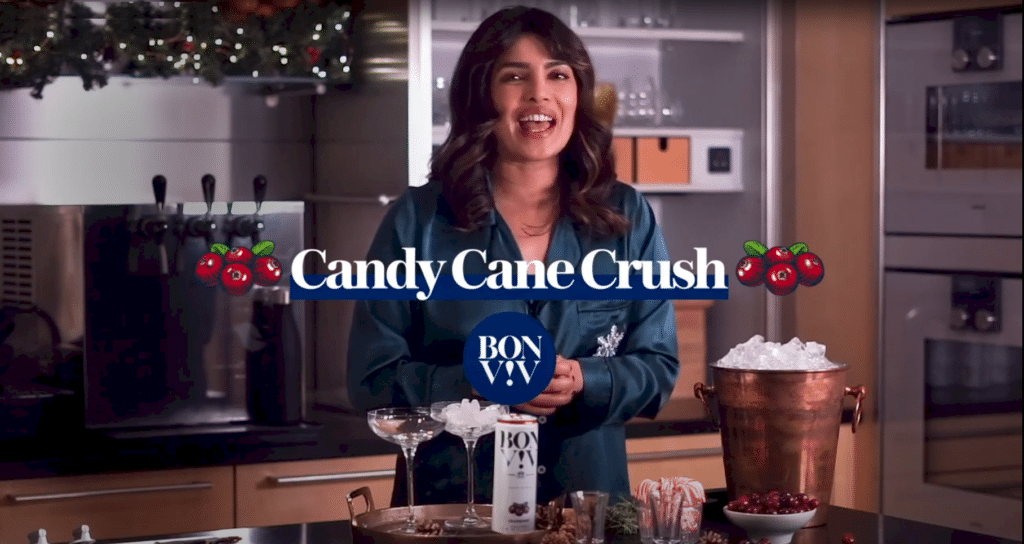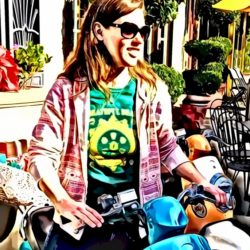 Latest posts by Erin Grafton
(see all)