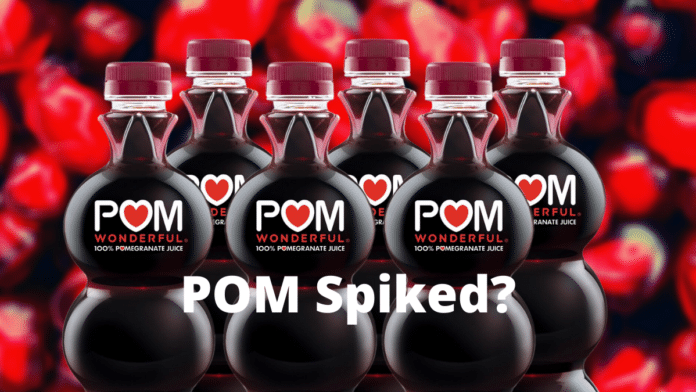 If you already thought POM was Wonderful, just wait until you see what the Wonderful Company, makers of the popular pomegranate juice, has in store next. Hard Seltzer News learned that the company has applied for trademark registration for POM Wonderful alcoholic beverages, including hard seltzer and hard teas.
The Wonderful Company is best known for its pomegranate juice, which comes in the iconic "double-bulb" bottle. The POM in POM Wonderful is stylized with a heart in place of the O.
POM Wonderful currently makes pomegranate juice blends with fruits such as blueberry, cranberry, cherry, mango, and tangerine, as well as soft coffee and tea drinks.
Formerly known as Roll Global, the Wonderful Company and its family of brands is owned by husband and wife team Stewart and Lynda Rae Resnick. The company is also affiliated with Wonderful Pistachios and Almonds, Fiji Water, and Paramount Agribusiness.  According to a Forbes analysis, nearly half of Americans consume products owned by the organization.
POM and Alcohol
This isn't the Wonderful Company's first foray into alcohol, as it already owns three vineyards – JUSTIN Wines, JNSQ Wines, and Landmark Wines.  JUSTIN is a California wine producer founded by Justin Baldwin, focuses on Cabernet Sauvignon, Merlot and Cabernet Franc varieties.  The central coast winery and Sonoma County-based Landmark Wines were purchased by Roll Global approximately 9 years ago. JNSQ was inspired by the French "je ne sais quoi", meaning a quality that cannot be easily described, or, that "certain something."
According to its mission, the company is "committed to offering high-quality, healthy brands and helping consumers make better choices, every day." The privately held company is committed to socially responsible practices, noting that it annually "invest[s] more than $75 million in far-reaching community development, education, and health and wellness programs across California's Central Valley and beyond."
Pomegranate Super Powers
POM Wonderful has also sponsored research into the health benefits of pomegranates, billing it as an "antioxidant superpower." The company has investigated the impact of antioxidants found in pomegranates and their relationship to memory and cognition, muscle strength recovery, and aging with promising early results.
The wonderful part of the name comes from the particular cultigen of pomegranates used in the juice, grown in the San Joaquin Valley in California. With its soft seeds and high water content, wonderful pomegranates are particularly good for juicing.
Pomegranate and Alcohol
The company hasn't hinted as to when consumers can expect its wonderful new hard options, but the pomegranate juice is already a popular mixer for cocktails. A popular choice for holiday mimosas, pomegranate seeds make a lovely garnish in a glass of champagne or can add a bit of flair and flavor to a vodka soda.
POM's website includes a recipe section, which features original pomegranate cocktails like POM mulled wine, a pomegranate Moscow mule, and even an IPA refresh.
Defining New Categories
While we're not quite sure in which category a POM wonderfully hard drink would fit, the possibilities are exciting. The company applied for protection for the mark with the US Patent & Trademark office for goods and services defined as "Alcoholic beverages containing fruit; Alcoholic beverages, except beer; Alcoholic carbonated beverages, except beer; Alcoholic fruit beverages; Alcoholic mixed beverages except beers; Alcoholic tea-based beverage; Pre-mixed alcoholic beverages."
Perhaps a pomegranate juice/ iced tea blend is in the works. With both White Claw and Truly releasing their own spiked and sparkling tea blends in the new year, 2021 could turn out to be the summer of hard iced tea.
With the Wonderful Company's extensive vineyard experience, maybe we will see a sparkling wine-based spritzer blending POM with JUSTIN or JNSQ Wines.  Or a hard seltzer with FIJI water?  Another possibility is hard kombucha flavored with POM blends.
Hopefully by next year's holiday season, we will be able to enjoy some wonderful new POM drinks – in whichever form they take – while celebrating in person with friends and loved ones.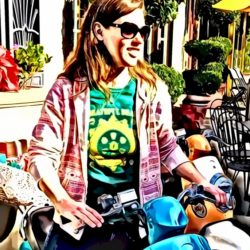 Latest posts by Erin Grafton
(see all)