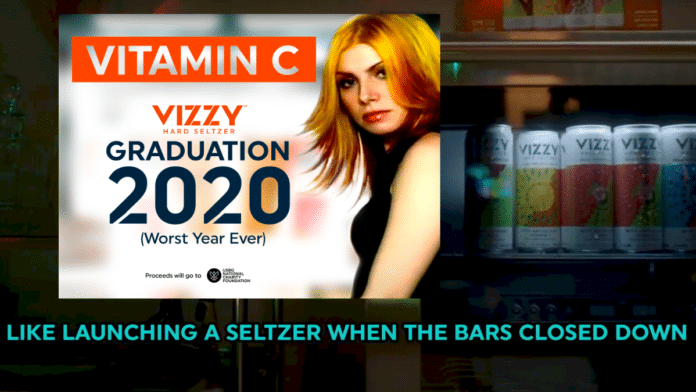 As a year like no other comes to an end, Vizzy Hard Seltzer is marking the occasion in a unique way – and helping bartenders at the same time. The hard seltzer brand is teaming up with the singer Vitamin C to record a special 2020 edition of her classic song Graduation (Friends Forever).
New version of a hit song
The new version, titled "Graduation 2020 (Worst Year Ever)" is a light-hearted send-off (hopefully) to pandemic living. The partnership between the brand and the singer, whose iconic "Graduation (Friends Forever)" was released in 2000, is a natural, as Vizzy is the first hard seltzer brand made with the antioxidant Vitamin C.
"Every December, we anticipate the year-in-review videos that flood our social feeds" said Elizabeth Hitch, marketing director for Vizzy Hard Seltzer. "This year was unlike any other and with many of us ready to put it past us, we knew we had to create a 2020 send-off to remember. As the first hard seltzer with Vitamin C, it only made sense to pair-up with Vitamin C, the artist with the most iconic farewell anthem ever."
The song recaps the unique moments we collectively experienced this year, from home haircuts and workouts to adopting shelter animals. The tongue-in-cheek song even references Vizzy Hard Seltzer's own origin story, having launched in April of this year amidst stay-at-home orders and restaurant and bar closures.
Vizzy's Launch Timing
"And we had bad luck, enough to go around, like launching a seltzer when the bars closed down," Vitamin C sings over a photo of a home's wine fridge full of Vizzy. The hard seltzer hit the market just as most alcohol consumption was moving from on-premise (ie: consumed at a bar or restaurant) to off-site (at home).
However, Vizzy has made the best of that inconvenient timing. After all, when is a little extra vitamin C more important than in the midst of a once in a century pandemic?
Helping Bartenders
During its short time on the market, Vizzy has quickly established its reputation for corporate social responsibility. In October the brand announced a major partnership with the Human Rights Campaign in conjunction with National Coming Out Day.
In addition to poking fun at a particularly hard year, the updated Graduation 2020 aims to continue Vizzy's charitable efforts. All proceeds from the song will benefit the hospitality industry, which is struggling in light of on-going safety restrictions surrounding the pandemic.
"When Vizzy approached me about creating a send-off to the year 2020 in song," said artist Vitamin C,  "I saw an unexpected opportunity to do some good, raise some money for COVID relief charities and take a look back at a rough year we won't soon forget."
Vitamin C donated her appearance fee to the United States Bartenders' Guild's (USBG) National Charity Foundation and its Bartender Emergency Assistance Program and the COVID-19 LA County Response Fund. Vizzy pledged to match the singer's donation, and will also give any proceeds the song accrues.
Vizzy and Vitamin C's updated farewell song is available on Apple Music, iTunes and Spotify. You can even sing along to a karaoke-style video on Vizzy's YouTube page as we prepare to ring in a new year full of new possibilities.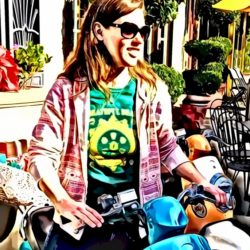 Latest posts by Erin Grafton
(see all)