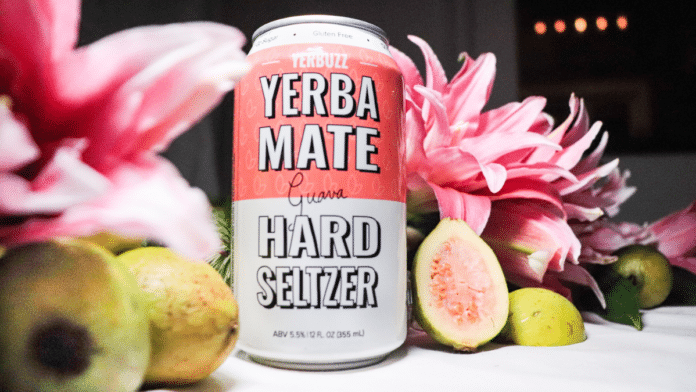 Yerbuzz, a new craft hard seltzer company out of San Diego, is introducing the first yerba mate hard seltzer to the market. The yerba mate and hard seltzer hybrid is currently available in San Diego County, and direct-to-consumer in 41 states.  Distribution will soon expand to locations in Los Angeles and San Francisco before venturing out of California. 
Yerba Mate Health Benefits
For those unfamiliar, yerba mate is a South American tea known for its health benefits. The tea is rich in nutrients, antioxidants and energy-boosting properties, among other professed benefits. The beverage has become popular in American health food markets in the last few years with brands such as Guayaki.
As for taste, yerba mate has an earthy, slightly bitter flavor, as you would expect from a tea. The unique pairing of yerba mate within the hard seltzer adds a depth of flavor unlike anything currently on the market. 
"The great seltzer conundrum is balance," said Yerbuzz CEO and founder, Dan Nierman. "But similar to hops in beer, yerba mate acts as a bittering component that really assists in making a more rounded and enjoyable beverage."
Natural Progression to Hard Seltzer
Before founding Yerbuzz, Nierman was a professional lead kombucha-maker with a passion for homebrewing. After leaving kombucha, Nierman studied sugar production in wine for four months and interviewed major figures in the alcohol industry including filtration companies, labs, and 180 contract brewers. 
After experimenting with 160 different flavor combinations and whipping up 25 test batches, Nierman was finally confident he could now produce the type of hard seltzer he'd love to drink. Yerbuzz was born.
"We will never compromise on the alcohol we produce. Many other brands take shortcuts or supply the alcohol from inconsistent suppliers," Nierman said. "We recognize the craft needed to make good hard seltzer and can tell you it definitely shows." 
Organic, Vegan, and Gluten-Free
The company prides itself on using organic yerba mate, non-GMO ingredients, as well as dry-fermenting dextrose in their product. The seltzer also contains no dyes, is vegan and gluten-free, and weighs in at 120 calories per serving with zero sugar and one gram of carbs. Health nuts, rejoice!
Yerbuzz launched with two fruity flavors — guava and blueberry — and is currently available in 6-packs of 12oz cans. While the seltzer won't be hitting stores outside of California for some time, many shoppers that live outside of California can order the beverage online for direct delivery on the Yerbuzz website.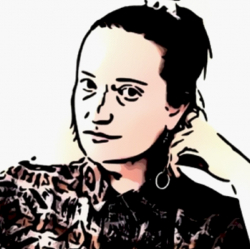 Latest posts by Stephanie Meade
(see all)