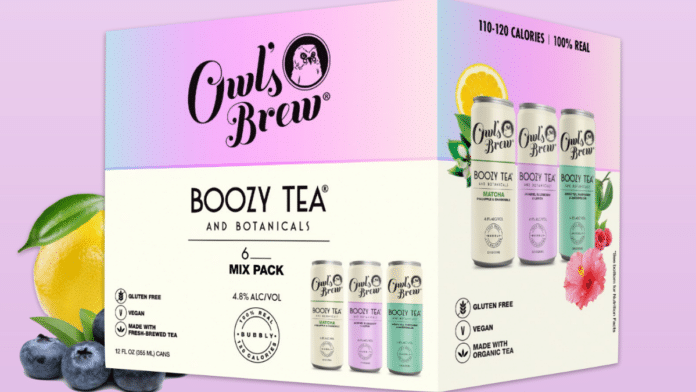 A unique new spiked and sparkling tea just hit the market; Owl's Brew invites legal-drinking age (LDA) consumers to "Drink wise, live well, and celebrate."
Owl's Brew is a "hand-crafted line of fresh-brewed teas and botanicals." It currently offers two product lines: Boozy Tea and Mixer. Mixer is also brewed from tea, and can be added to spirits – or seltzer to make a sparkling mocktail.
Owl's Brew Boozy Tea comes in Yellow, made from English breakfast tea, lemon, and lime; Pink, which features Darjeeling tea and hibiscus flowers; Green, actually made from white tea, raspberry, and watermelon; and Matcha, a blend of pineapple and chamomile.
Starting on April 1, Owl's Brew will release its new Par-Tea 2 variety pack, which will include two cans each of Matcha, Green, and the new Purple, featuring jasmine, blueberry, and lemon.
Each 12 oz. can contains 110 to 120 calories. 4.8 percent ABV, and are gluten-free and vegan. All flavors are made with fresh brewed tea and no added artificial flavors. They do, however, contain caffeine found naturally in the teas.
The mixers are made with botanicals, real fruit juice and a dash of cane sugar. They are non-alcoholic and can be enjoyed soft or hard. The flavors are crafted to pair with different liquors, such as the Wicked Margarita (made with green tea, lime, and habanero) or the wintery Mulling Spices (Chai Spices, Cranberry, & Apple).
Owl's Brew was founded by two friends, Jennie and Maria, two "tea-drinking boozers" who worked together at a marketing firm before venturing into the tea trade. After Jennie's father fell ill, she started a journey to find the most "immunity-boosting antioxidant-rich ingredients" in order to help him combat the illness, which led her to tea. She soon began blending her own mixes as a tea sommelier, eventually founding Brew Lab.
Soon she and Maria started dreaming about how tea and cocktails could be combined to make better-for-you but still flavorful alcoholic options. They spent the next two years hosting tea cocktail parties in order to find out if their crazy new ideas held water; they wanted to see if other people wanted "more good stuff, less sugar, more flavor, less juice." As fate would have it, they did.
Yet the Owls still had trouble finding a co-packer willing to fresh-brew tea for the brand. Many people encouraged them to partner with a Flavor House, which are "labs that specialize in recreating real ingredients, through flavoring." The pair were committed to using only ingredients found in nature to craft their unique seltzer, including organic teas and botanicals, and you can taste the effervescent results.
Why the owl? "Drink Wise." Jennie and Maria want to emphasize the importance of drinking responsibly, which includes giving your body quality ingredients.
Owl's Brew is currently available in NY, CT, PA , NJ, MA, ME, CA, VA, and RI. During March the bubbly Boozy Tea will also be expand to TX, FL, VT, SC, GA, TN, WI, MN and IL, just in time for the release of Par-Tea Pack 2.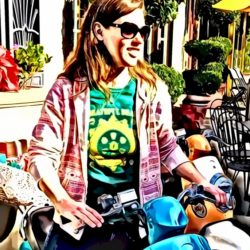 Latest posts by Erin Grafton
(see all)