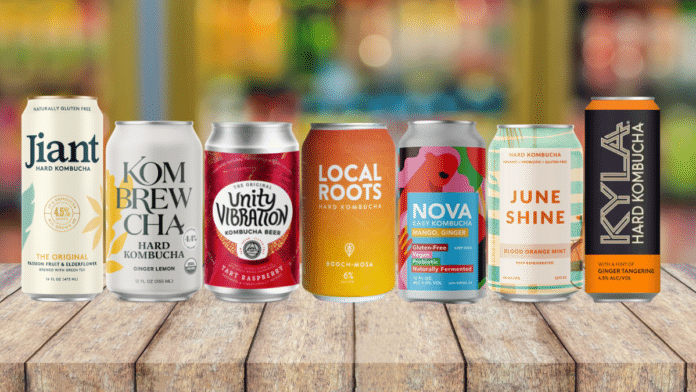 Hard kombucha is disrupting the market in a year full of disruptions. While many beer brewers seemed to lose touch with the broader audience, hard seltzer, ready-to-drink cocktails, and hard kombucha have exploded. We tasted a variety of varieties, reviewed them all, and compiled the best results in this guide of the best brands for 2020.
Hard Kombucha is a fermented and effervescent, light and refreshing, alcoholic beverage in the range of 4.5 to 7% ABV. Compared to beer, it's lower in sugar, calories and carbs. A bonus to some, and critical to others, it contains live kombucha cultures. It's produced by fermenting tea and sucrose with a living culture called a scoby (symbiotic culture of bacteria and yeast). While the mushroom-shaped scoby is not something you'll find on Pinterest or Instagram, it's magical powers for gut health have attracted a loyal non-alcoholic kombucha following.
Give the drink a gentle rotation or swirl before drinking or pouring. Don't shake vigorously, or you'll be taking a kombucha shower. Hmmmm.
Most kombucha has a very small amount of caffeine because it's brewed with black or green tea. The fermentation process reduces caffeine's superpowers, so don't expect it to help you stay up all night cramming for the Series 7. (Maybe stick to non-alcoholic kombucha that night.)
If stored in warm environments, the fermentation of some brands continues in the can and the carbon dioxide can build up quickly. The results could be anywhere from an excess carbonation upon opening to an exploding or leaky can around the joints. The proper pH level of kombucha protects the drink from harmful bacteria. Check your label: most manufacturers recommend refrigeration at all times!
Hard kombucha brewers add sugar and yeast for a secondary or tertiary fermentation. The sugars are fermented for 10-14 days, yielding ABVs of 4.5-7%.
The government tax authorities (TTB) generally classify hard kombucha as beer, and therefore requires some formulations to carry the word "beer" on the label.
But be aware that the alcohol could kill the probiotic benefits of the brew. Since so much is still unknown in this category, many makers will not advertise their hard kombucha as being a probiotic.
We evaluated and reviewed some very new and exciting hard kombucha brands for this guide. All were refrigerated and sampled with and without ice in a controlled environment. It was a glorious task.
Local Roots
Local Roots offers hard kombucha in four packaged varieties: Strawberry Mojito, Island Vibes, Cali Mule, Purple Haze, and our favorite, Booch Mosa. They also operate a taproom in Vista, California, where you can taste their non-alcoholic kombucha.
The company shared their mission statement with Hard Seltzer News: "Local Roots began with the simple goal of creating the best tasting hard kombucha everyone will enjoy. We aim to quench the human desire for well-being and community with a beverage that is taste-forward, raw, authentic and bold."
Local Roots launched last year in California. But they're already available in a combined 1,000 on-premise and off-premise retailers in CA, including Whole Foods, BevMo, Total Wine & More, Bristol Farms, Lazy Acres, and Jimbos. They've also added Nevada distribution. You can only hope their roots spread to your area.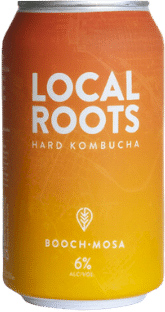 Booch-Mosa
We were happy to have the opportunity to review Booch-Mosa. It's obvious that these hard kombucha makers have done their homework!
Sporting a vibrant color in the glass, reminiscent of a strong screwdriver, but with a carbonated twist, the "Booch Mosa" tastes like health and fun combined into one fun can. It's no wonder with ingredients like orange, ginger, turmeric and kombucha (YES…all organic ). 6% ABV

Nova Easy Kombucha
Something about the brand NOVA feels "CRAFT". I think I like their choice of ingredient concoctions which feel like "sophisticated health", with a kick . Distribution currently includes California, Colorado, Illinois, Maine, Massachusetts, Michigan, New Hampshire, Ohio, and Tennessee.
Their hard kombuchas are offered in Mint Watermelon, Peach Passion, Orange Brunch, Mango Ginger, Lavender Hibiscus, Acai Guarana, Tangerine Turmeric, and Sexy Pina Colada. Recent non-alcoholic variety launches include Watermelon Lime, Mango Pineapple, and Guava Mint.
There's a certain mystique to this brand. Perhaps it's the awesome graphics on their cans. Or the fact that they have some flavors that come in 12 oz cans and some that are pint sized at 16 oz. It makes you wonder if there is a secret reason that the "tangerine, turmeric, cayenne pepper, ginger " should be pint size.
All varieties have great fan appeal. At first the "açaí berry, guarana" was just good, but by the 3rd sip, it had us saying, "Hmm. They might be onto something with this flavor". By the 5th sip we realized we had just discovered the refreshingly tart Campari of Hard Kombucha. But… that wouldn't give NOVA Açaí Berry & Guarana the credit it deserves. We're looking forward to more Nova kombuchas in the future.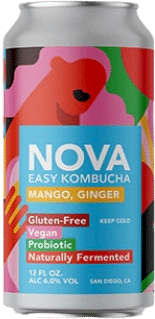 Mango Ginger
Smells of ginger, reminiscent of a uniquely fresh Moscow Mule.
Tastes heavy of ginger, slight nuance of mango. Characteristically carbonated.
Color is sort of funny pale, cloudy yellow. This gluten-free and vegan hard kombucha is easy to drink and…delicious! Now we understand why it's so highly reviewed on untappd.
We look forward to another one on another day…or maybe right now.

Unity Vibration
Unity Vibration is a small Ypsilanti, Michigan, company which has been making kombucha since 2009. They recently upped the alcohol content and offered hard kombucha made locally in a microbrewery.
They currently produce Bourbon Peach, Tart Raspberry, Funky Ginger, Elderwand, and Kombucha Pale Ale. We're anxious to see their upcoming Kriek Tisane, which is sure to have a tart cherry flavor. Their hard kombuchas range from 8 to 9% ABV. In addition to cans, they also produce non-alcoholic kombucha, available in 12 ounce bottles. Michigan outlets can even get their products in kegs.
Distribution of Unity Vibration hard kombucha currently spans 19 states. So you're in luck if you live in Arizona, California, Colorado, Florida, Georgia, Illinois, Maryland, Massachusetts, Michigan, New York, North Carolina, Ohio, Pennsylvania, Rhode Island, Tennessee, Texas, Virginia, Washington, or Wisconsin.
Launching their hard line in 2011, Unity Vibration was the first company to make and sell hard kombucha commercially. They literally hand-make each batch with highest quality organic ingredients, infuse with sacred sound vibrations, and never pasteurize their products.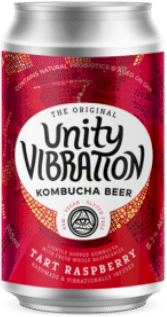 Tart Raspberry
Beautiful deep raspberry color
Carbonated but not super, ultra carbonated. A very unique mix of raspberry and a light contribution of hops. Almost felt confused and honored to have tasted something so unique.
For our review of Unity Vibration, the Tart Raspberry came in a bit sweet to consume more than one in a sitting. But we look forward to tomorrow. We love that it's made with fresh whole raspberries!

Kombrewcha
Kombrewcha was founded in Brooklyn, NY, in 2014, but you're lucky by the grace of modern trucking to have product if you live in California, Colorado, Connecticut, Hawaii, Idaho, Maryland, New Jersey, New York, North Carolina, Oregon, Pennsylvania, Texas, Virginia, or Washington.
Kombrewcha is available in Ginger Lemon and Berry Hibiscus, and introducing Mango Pineapple and Blood Orange. All Kombrewcha products are 4.4% ABV and are available in 12 cans. Some locations may be able to access Kombrewcha in some varieties in kegs, so your seltzery can pour Kombrewcha on draft!
What's great about Kombrewcha? All products are USDA-certified organic, gluten-free hard kombucha, and they stick to fair-trade black tea.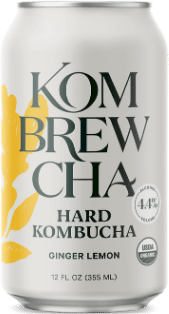 Ginger Lemon
We reviewed the Ginger Lemon hard kombucha from Kombrewcha. We found it to be a mild, very drinkable hard kombucha. The ginger burning is not strong, but adds enough to spike this burst of flavor. The subtlety probably is a result of the company's use of real organic ginger.
This delicious drink with little to no alcohol warming is 4.4% ABV and a welcome addition to the refreshed lineup at Kombrewcha. Available in 14 US states!

June Shine
June Shine offers a diverse lineup of flavors that include Blood Orange Mint, Midnight Painkiller, Hopical Citrus, Acai Berry, Honey Ginger Lemon, Pineapple Orange, and Hibiscus Lime. The Pineapple Orange and Hibiscus Lime are light in ABV (4.2%) and calories (100).
They have an exciting seasonal release known as Cran Apple Cinnamon. They also have a collab with Stone Brewing. Known as StoneShine, the seasonal release mixes Stone's legendary hops and fruits from Masumoto Farm into JuneShine's hard kombucha formulation.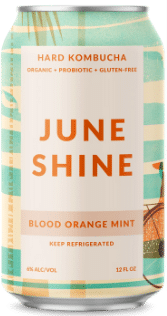 Blood Orange Mint
Ever see a movie that takes place in the Deep South with a sleeping porch protected by mosquito nets?
Kids laughing, running back home for supper in the early evening, barefoot from fishing in the creek….fireflies beginning their nightly light show and the smell of homemade cornbread wafting out from the squeaky back storm door opening and closing to the sounds of happy southern farm life.
That's what JUNE SHINE, the name and the packaging of this interesting hard kombucha brings to mind. Strangely enough the liquid coming out of this transformative visual experience didn't immediately match that vision. Expecting a blood orange and/or mint taste but couldn't quite put a finger on what we just tasted. But then as we took a second and third sip, we were back in that summer backyard and realized that tang was just a taste of summer.
Wonder what this interesting hard kombucha will evoke for you…

Jiant
Jiant launched last year and comes in a tall can (go figure) and features The Original (Passion Fruit & Elderflower), Hicamaya (Grapefruit & Hibiscus), and Gingerly (Ginger & Lemongrass). Recently launched is their Guavamente (Guava & Mint). These are all at 4.5%, but if you drink a 16-ounce can, it's like drinking a 12-ounce can at 6% ABV. Hmm.
Jiant is packaged in cans, and is available on tap in some areas, depending on current social distancing rules. Cans are distributed to California, Colorado, Connecticut, New Jersey, New York, and Utah. They will be launching in Massachusetts and Rhode Island soon, and have several additional markets coming online before the end of the year.
Jiant is distributed in over 1,000 retail outlets, including Whole Foods, Trader Joe's, Kroger, Sprouts, and Total Wine & More.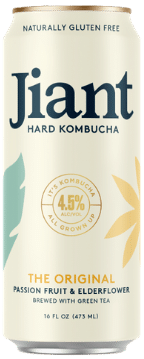 Original – Passionfruit & Elderflower
After "digesting" the name, the rest was nothing but super pleasant. The can has a soothing, almost relaxed aesthetic to it. Jiant Original, brewed with green tea and featuring Passion Fruit and Elderflower, pours a beautiful clear, pale yellow.
And the taste was equally pleasing. Crisp and refreshing. The tagline "It's Kombucha All Grown Up" is brilliant. I'll take another please, since I can.

KYLA
KYLA comes to us from the folks at Full Sail Brewing in Hood River, Oregon. KYLA is low in sugar and carbs, is vegan, gluten-free and has live cultures. They currently offer 8 fun and fizzy flavors. For distribution and storage, it's not necessary to refrigerate KYLA, which can be a big bonus. But they advise you do, anyway, saying "KYLA cultures do best in chill environments."
Fun fact: KYLA is capitalized because it's an acronym for Kombucha Yeast Lactobacillus Acetobacter.
The four classic varieties include Ginger Tangerine, Hibiscus Lime, Pink Grapefruit, and Berry Ginger. Included in their "sunbreak" flavors, in cans that may look considerably different, are Sunset Trio, Lavender Lemonade, Pineapple Ginger Colada, and Coconut Crush.
KYLA is currently available in Alaska, Arizona, California, Colorado, Hawaii, Idaho, Florida, Georgia, Montana, Nevada, New Mexico, New York, Oklahoma, Oregon, South Texas, Utah, Washington, and Wyoming.

Ginger Tangerine
After drinking this, we've decided KYLA really stands for Kisses You with Loving Affection. LOVE love love it! From the beginning, it's nicely carbonated. Clear of color, but full of flavor! Refreshing ginger has a love bite (just like we like it), and then we notice it's light on the fruit and sweetness. The hint of tangerine is all we needed to complete the romance.
We couldn't think of anything we would change. A first for a relationship.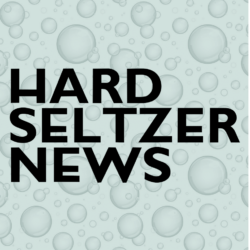 Latest posts by Hard Seltzer News
(see all)