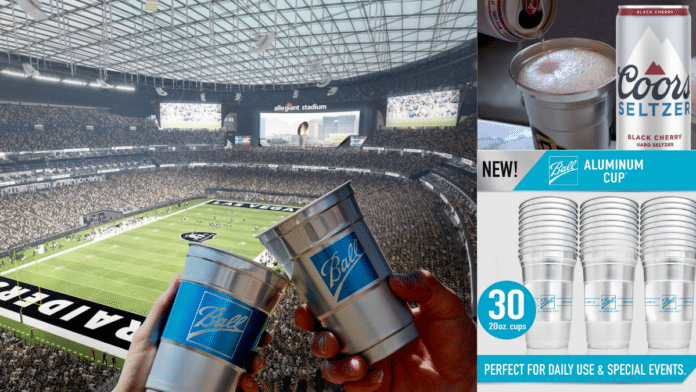 The Ball Corporation (NYSE: BLL) is teaming up with Molson Coors (NYSE: TAP) to bring its new recyclable aluminum cup to fans at the new Allegiant Stadium in Las Vegas.
In addition to Coors Light, Allegiant Stadium's official domestic beer, Molson Coors also provides Coors Hard Seltzer, Hop Valley, its official craft beer, and Vizzy hard seltzer.
Both corporations are dedicated to environmentally sustainable practices
Ball Corporation, an established leader in sustainable aluminum packaging, developed the cup in response to consumer demand for more eco-friendly options.
"We're proud to team up with Coors Light to bring fans at Allegiant Stadium an enhanced beverage experience and sustainable hospitality options from the start with our game-changing and infinitely recyclable aluminum cup," said Daniel W. Fisher, Ball's chief operating officer for global beverage packaging.
"We introduced the aluminum cup to meet the growing demand for more sustainable packaging choices, and we're excited that our partnership with Coors Light will give fans visiting Allegiant Stadium an opportunity to further their efforts to reduce, reuse and recycle," Fisher said in a release.
Molson Coors also has a strong history of supporting environmentally friendly corporate social responsibility (CSR). Coors Hard Seltzer – released in September of this year – aimed to put a conservationist spin on their eponymous hard seltzer, vowing to restore 500 gallons of water for every 12 pack sold.
Metal has mettle
"Coors Light has a long history of sustainable product innovation – in fact, many people don't know that we pioneered the first-ever aluminum cans to hit the market back in 1959," says Adam Dettman, director of partnerships and licensing at Molson Coors.
Kristen Anthony, VP Business Development at Ball Corporation said in a social media post, "Working on this aluminum cup has been inspiring and forming this partnership to truly make sustainable changes is awesome!"
Aluminum is among the most sustainable of beverage packing materials, as it is infinitely recyclable. The cup is also durable, lightweight, and keeps your drinks cooler than plastic. The cup can also be customized with the home team's logo wherever it's sold, as it will be in Las Vegas.
As an added bonus, the Ball aluminum cup is reusable, making it a fun souvenir that's also environmentally sound. A collection of aluminum cups from stadiums around the country would make for an impressive collection, indeed.
Allegiant Stadium was a major win for Ball
According to AP News, 100,000 of these special 20 oz. aluminum cups will be available in club level seats at Allegiant Stadium, where the new Las Vegas Raiders are playing their inaugural season.
Allegiant Stadium – adjacent to the iconic Las Vegas Strip – is a global events destination. As a major tourist attraction with a capacity of 65,000 people, it is all the more critical that Allegiant choose sustainable materials and highlight the possibilities of environmentally friendly options.
We hope more stadiums follow the new Allegiant's lead. Maybe someday Toby Keith, inventor of the iconic red plastic cup, will see the benefits of the aluminum cup and bring it to his I Love This Bar and Grill – a red one would make a great souvenir.
Available on Amazon
The product is available direct to consumers on Amazon as an original holiday gift for the hard seltzer on your list. A box of 30 cups is only $24.99, including shipping for Prime members.  Reviews are overwhelming positive, with feedback such as "The cup is from extremely good quality, they last more than once and can be easily washed or disposed to recycled." and succinctly "The future is now."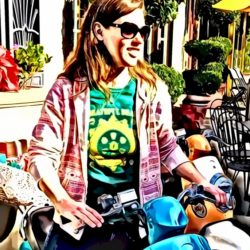 Latest posts by Erin Grafton
(see all)