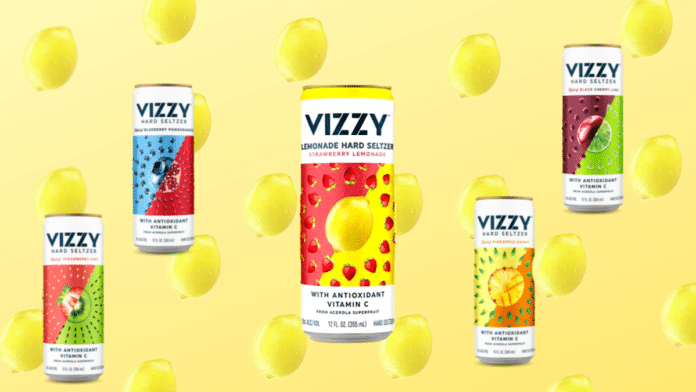 Vizzy, the first hard seltzer made with the antioxidant vitamin C, just dropped news of a major product expansion; On April 1 it will release its second variety pack, Vizzy Lemonade Hard Seltzer.
Like the original Vizzy, the brand's new sparkling lemonade will contain 100 calories per can, 2 grams of carbs per 12 oz. serving, and of course, vitamin C. It is also five percent ABV and is certified gluten-free.
"Lemonade and antioxidant vitamin C go hand-and-hand, and drinkers have been clamoring for a lemonade version of Vizzy," says Elizabeth Hitch, director of hard seltzers at Molson Coors (NYSE: TAP).
"Vizzy Lemonade is bright, bold and comes in four fun and unique dual-flavor mash-ups, and it will be available just in time to kick off spring."
The new drink will initially be available in four flavors: Strawberry Lemonade, Watermelon Lemonade, Raspberry Lemonade, and Peach Lemonade.
This news makes Vizzy the most recent in a line of hard seltzers announcing their expansion into the growing sub-segment of hard seltzer lemonade. One of the year's most anticipated hard seltzer releases, Mike's Hard Lemonade Seltzer, will hit stores just weeks before Vizzy, with an expected release date of sometime in March.
Packaging a Lemonade with Alcohol
Bud Light Seltzer also announced its own spiked and sparkling lemonade, which is set to hit store shelves later this month. However, the new Vizzy will break the streak of the black skinny can's association with lemonade seltzer which thus far has been mimicked by Mike's Hard, Bud Light Lemonade, and of course the original Truly Lemonade.
Vizzy's new lemonade will more closely resemble its original vitamin C booster in appearance, with white cans featuring a mash-up of the fruit blends contained.
Hard Seltzer News asked representatives for Vizzy how the company felt about hitting the market alongside so many new competitors. "Vizzy Lemonade will join the current Vizzy Hard Seltzer variety pack that's in market," representatives told HSN.
"At this time we're focusing on providing consumers with different offerings, especially flavors they've been asking for, with our same Antioxidant Vitamin C point of difference! We're excited for Vizzy Lemonade to hit shelves in April."
HSN has also learned that Vizzy plans to release another variety pack featuring new flavors of its flagship hard seltzer, which are scheduled to hit stores in March. The company hasn't yet hinted as to which flavor blends will be featured in that release.
Vizzy's Point of Differentiation
The original Vizzy comes in flavor blends of Black Cherry Lime, Blueberry Pomegranate, Pineapple Mango, and Strawberry Kiwi.
Since its release last April, in the early days of the pandemic, Vizzy has made a strong effort to distinguish itself from the bubbly competition. To mark the end of its unprecedented inaugural year, the brand teamed up with the recording artist Vitamin C to re-record her hit song "Graduation (Friends Forever)" as a humorous send up of quarantine life.
The song even pokes fun at the brand's origins, lamenting its timing of "launching a seltzer when the bars are closed."
We're glad that Vizzy has persevered through its early challenges, because we could all still use a little extra dose of vitamin C.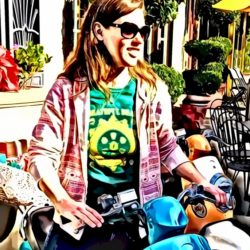 Latest posts by Erin Grafton
(see all)