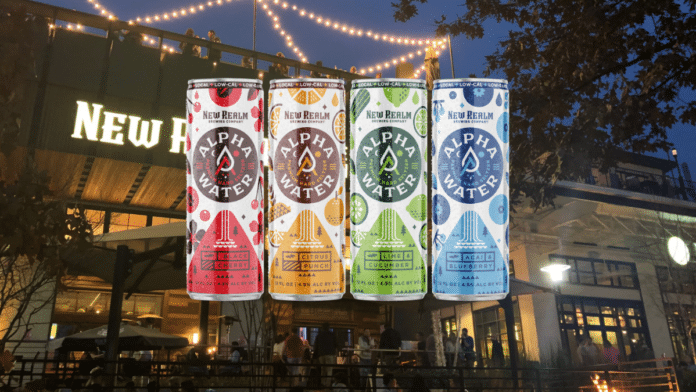 New Realm Brewing is releasing its much anticipated premium hard seltzer today. Affectionately titled AlphaWater, the spiked and sparkling beverage is a labor of love that the brewery spent over a year perfecting.
The hard seltzer joins the brand's core lineup and will be available across New Realm's distribution footprint starting today in a carefully orchestrated launch.
AlphaWater is introduced in a variety 12 pack featuring four flavors: Acai & Blueberry, Lime & Cucumber, Black Cherry, and Citrus Punch. Each 12 ounce slim can contains 90 calories, 1 grams of carbs, and 4.5% ABV. 
With few calories and carbs, fans will enjoy the crisp flavor and clean finish that launches AlphaWater to the top of new entries in hard seltzer.  
A Year in the Making
"Hard Seltzers are a concept we have been experimenting with for over a year as we experimented with multiple flavors to find the most balanced and refreshing combinations. AlphaWater is naturally gluten free, uses all-natural ingredients, is sugar-free and locally-made in Virginia Beach and Atlanta," said Bob Powers, co-founder and chief sales & marketing officer of New Realm Brewing.
A year of trials, including tasting sessions by staff and consumers, led to the final product.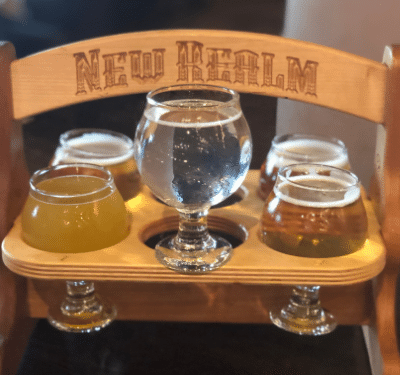 "We were very intentional in choosing what flavor combinations we knew would create a balanced, delicious variety", added Mitch Steele, co-founder and brewmaster of New Realm Brewing.
"It's releasing just in time for warmer weather, and will be perfect for every occasion."
Atlanta Brewhouse Pours the Love
New Realm's Atlanta brewery taproom and restaurant 20,000 square foot megaplex is strategically positioned on the BeltLine project, a former railway corridor converted to multi-use trail. Sweeping views of the midtown skyline are combined with continuous traffic of walkers, joggers, skaters, and dog-watching.
The taproom in the former woodshop building currently pours the Acai & Blueberry and Lime & Cucumber varieties. Each is a flavor bomb of crisp carbonation with a light and refreshing finish.
On a recent visit, patrons were observed enjoying seltzer with a starter of Blistered Shishito Peppers, a delicious creation from Executive Chef Megan Brent that includes sesame seeds and ginger aioli. The dish is overall mild, but the occasional heat from those yummy shishito seeds was tempered by the effervescent clean hard seltzer.
Extra staff is employed to ensure good social distancing behavior of guests, allowing the mega micro brewery and restaurant to maintain the energy and vibe of the busiest taprooms pre-covid.
Live music, laughter, great views, plenty of indoor and outdoor areas, are combined with a lineup of expertly crafted beers and seltzers.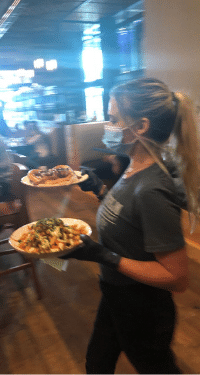 "I come here because it feels sort of safe, more than most places," said Jack McGuire, senior at Emory University, while outdoors and sipping on an Acai & Blueberry hard seltzer. "I run into a lot of my Emory friends here."
AlphaWater Makers Continue to Grow
Brewmaster Mitch Steele pays as much careful detail to Alpha Water hard seltzer as his lineup of award winning craft beers. Everything is brewed and canned in house, in order to ensure the right formula for a successful launch. The Certified Cicerone Beer Server staff at the Atlanta brewery and restaurant seem to enjoy working there, beaming with pride as they talk about the newest lineup of hard seltzer.
New Realm Brewing Company was founded in 2016 by co-founders Carey Falcone, Bob Powers and Mitch Steele. In addition to the Atlanta location, New Realm can also be found in Virginia Beach. Rumors of expansion include places like Charleston, SC, although the company seems committed to focusing on southeast and mid-atlantic regions of the US.
AlphaWater is launching at a time when warmer temperatures in Georgia and Virginia will test the staying power of hard seltzer's meteoric rise. Recent surveys have indicated that millennials now prefer hard seltzer over craft beer.
We're excited to see what else the new realm of hard seltzer has in store for this craft brewery.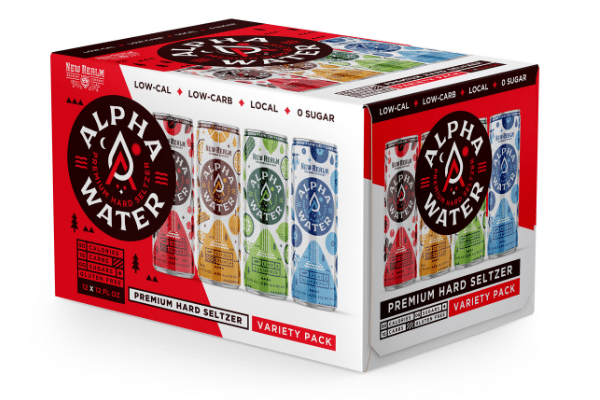 Reporting contributions from multiple staff writers.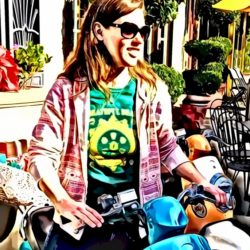 Latest posts by Erin Grafton
(see all)