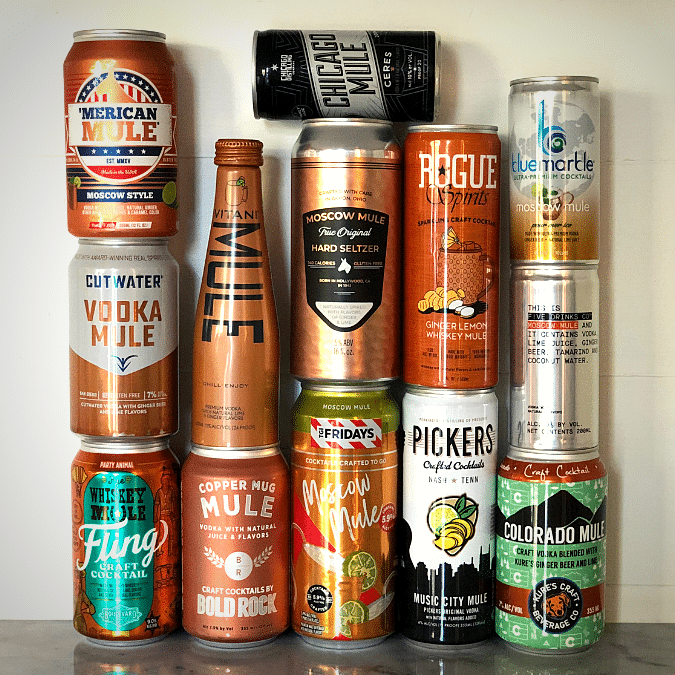 Cold weather has arrived, and so has Moscow Mule season. The warming combination of spicy ginger and just the right amount of spirits make the Moscow Mule a favorite drink this time of year. With the rapid rise of the Moscow Mule cocktail-in-a-can, it can be confusing to sort through the Drizly listings for a delicious cocktail hiding behind the fancy graphics on the aluminum can. Our panel of tasters found the 14 best Moscow Mules in the US for 2020.
The Moscow Mule cocktail jumped to near the front of the line in American cocktail popularity over the past few years. The canned version is rapidly becoming the most popular of all ready-to-drink (RTD) cocktails.
As these brands grow in popularity, so will distribution. But because of various state laws, regulations, and filing requirements, not all brands are available in your state. However, all 50 states and the District of Columbia can try at least one from our list.
The states that always seem to get the best variety, and this lineup proves, are Florida, Illinois, Ohio, and Tennessee. In second place are Colorado, Connecticut, Georgia, Kansas, Maryland, New York, Pennsylvania, and Wisconsin. Of those only Ohio and Pennsylvania are alcoholic beverage control states. There are 17 control states, meaning state legislation has instituted a state-run monopoly on the distribution or retailing on beer, wine, and/or distilled spirits. It's not too surprising that startup manufacturers would tackle them last.
The classic recipe for the Moscow Mule is relatively simple: vodka, ginger beer, and lime. It's traditionally poured over ice into a copper mug. But hey, since this drink is meant for a metal container, we won't tell if you drink straight from a chilled aluminum can.
The purity of vodka, along with the advent of creative natural flavors and sweeteners has made the Mule a popular drink with low carb diets such as keto. The keto diet has been identified as a powerful way to lose fat, and may protect against several diseases.
At one time the Moscow Mule was nothing more than complicated outlier. It turns 80 next year, and has now become one of the most popular drinks in the US. According to recent data, it's received par levels with the Bloody Mary and Mojito.
While it's the spirit of choice, not all Mules are made with vodka, and we've included two whiskey mules on our list. Two others did a fine job of replicating the style by using a fermented malt or cane sugar base. Brands can get creative in order to help you access their products from grocery stores, especially in states where the purchase of spirits is restricted.
We've included state distribution data, but understand this is a moving target. Click through on each brand for the latest info.
If you haven't tried one, don't be stubborn: your Mule awaits!
'Merican Mule Moscow Style
The 'Merican Mule company in Norwalk, CT, brings us a lineup of expertly crafted mules, including the Moscow Style, and with a dose of creativity on the classic definition, Tropical, Mexican, Southern, and the seasonal Pumpkin styles. The Moscow Style is made with vodka, Tropical with rum, Mexican with tequila, and Southern with bourbon liquor. All are 7% ABV and made with quality spirits. The sweetness of summer is prevalent in the Moscow Style, with enough ginger and carbonation to know you've found a special canned cocktail.
The 12-ounce cans are currently available in 12 states of CT, GA, ME, MD, MA, NH, NY, OH, PA, RI, TN, and VT.
Craft Cocktails by Bold Rock
Bold Rock Hard Cider produces a variety of canned cocktails made with real spirits. The Copper Mug Mule is deliciously made with American vodka and natural juice and flavors, including plenty of ginger and a touch of sweetness from fresh apple juice. At 7.5% ABV, this 12 oz can delivers just the right alcohol warming and ginger flavors to delight any connoisseur. The company is famous for their hard cider, and also makes hard seltzer, hard tea, and hard lemonade. Bold Rock's Moscow Mule is currently only available in Virginia, but its hard cider, hard seltzer, hard tea, and hard lemonade are available in DE, FL, MD, NJ, NY, NC, OH, PA, SC, TN, VA, DC, and WV.
Pickers Music City Mule
Pickers Canned Craft Cocktails are 6% ABV (12 proof) and are made with spirits, rather than a fermented malt base. The Music City Mule has plenty of sweetness combining with ginger and vodka, all in a tall call with cool guitar artwork and nod to Music City, Nashville, Tennessee. It's made with fresh ginger, real lime and Pickers Original Vodka, which is distilled from non-gmo corn, the filter four times before adding good ole Tennessee water.
The company also offers Pickers Unplugged Vodka Soda in assorted low calorie, zero carbohydrate, and gluten-free flavors.
Distribution includes the states of AL, FL, GA, IL, KS, KY, LA, MI, MS, NY, NC, OH, OK, SC, TN, WI, and WY.
Moscow Mule by Blue Marble
Blue Marble makes a wide variety of hard seltzers and RTD cocktails, including this delicious Moscow Mule, coming in at 15% ABV. The taste is so well balanced that it is easy drinking in a high ball glass (or copper mug, if you insist) over ice. Blue Marble recently launched their award-winning Bloody Mary in a new 8-pack at Costco Wholesale Clubs. The vodka that is used in Blue Marble canned cocktails can also be purchased, so you can create your own cocktail. Blue Marble also has a canned water offering that will be coming in the near future. Products are available in AZ, AR, CA, CO, CT, FL, IL, IN, IA, KS, KY, MD, MI, MN, MO, NE, NV, NJ, NY, ND, OH, OK, SD, TN, TX, UT, WA, and DC.
Rogue Spirits Sparkling Craft Cocktails
Rogue Ales & Spirits makes a delicious ginger lime vodka mule, but we wanted to try to the new ginger lemon whiskey mule. You will, too. It's 7.5% ABV and made with real spirits in a knockout package design.
You must try this. I know, I know. You only drink vodka. You don't like the taste of brown liquor (scotch/bourbon/whiskey). Just try it. The Rogue whisky mule is just the right combination of whiskey and ginger with a very slight sweet flavor to make it super easy drinking. You won't be able to stop.

Maybe it's the hint of lemon. We're not quite sure. We just know we LOVE it. It's refreshing and spicy. Tastes like Christmas on the beach. (sips again) Yes, definitely. Christmas on the beach.
Rogue also brews world renowned craft beer, CBD Seltzer Water & Soda. You can find these products in an impressive 34 states, including AL, AZ, AR, CA, CO, CT, FL, GA, HI, ID, LA, ME, MD, MA, MI, MN, MS, NH, NY, NC, OH, OR, PA, RI, SC, TX, UT, VT, VA, WA, DC, WV, WI, and WY. They are also available for free delivery in Portland.
Cutwater Vodka Mule
Since 2017, San Diego-based Cutwater Spirits has been producing a wide variety of ready-to-drink cocktails, including the delicious Vodka Mule, which easily made it to our list of the best mules of 2020. It packs a punch of carbonation and ginger with its 7% ABV, pours clear. Best when enjoyed over ice with a slice of lime, but we didn't hesitate to drinks straight from the chilled can.
Cutwater has earned nearly 1,000 awards across its portfolio of products and is currently distributed in 38 states, with some form of delivery AL, AZ, AR, CA, CO, CT, DE, FL, GA, HI, ID, IL, IN, IA, KS, KY, LA, ME, MD, MA, MI, MN, MS, MO, MT, NE, NV, NH, NJ, NM, NY, NC, ND, OH, OK, OR, PA, RI, SC, SD, TN, TX, VT, WA, DC, WI, and WY. (Sorry Alaska, Virginia, West Virginia, & Iowa)
Chicago Mule
We loved the Chicago Mule from Chicago Distilling Company in, uh, Chicago. It's 10% ABV (20 proof) and of course made with the Ceres vodka from Chicago Distilling.
A fresh tasting rendition of the Moscow Mule, the Chicago Mule is just the right combination of vodka and spicy ginger beer to make us want to come back for more. The 200ml can is easy to pack and fits nicely on the backbar of any speakeasy.
The female-owned company has also launched Club 88 Vodka Spritzers and makes CBD water. Distribution is growing, but currently limited to FL, IL, KS, MN, TN, and WI.
Fling Rye Whiskey Mule
Fling from Boulevard Brewing in Kansas City never disappoints. The Whiskey Mule is no exception. Introduced just a year ago, it's a delicious combination of whiskey, ginger, and lime in a craft cocktail with 9% ABV. A great cocktail for tailgating at football games or just the socially-distanced armchair quarterbacking, it's a smooth, not harsh drink. Fans of the traditional vodka-based Moscow Mule will appreciate this wrinkle on the popular mixed drink. The adventure into whiskey from vodka is made quite palatable. Go on a Fling, explore and you will be rewarded.
All Fling Craft Cocktails are gluten-free and made with all-natural ingredients. Available in 30 states: AZ, AR, CA, CO, CT, FL, GA, IL, IA, KS, ME, MD, MA, MN, MO, NE, NV, NJ, NM, OH, OK, PA, RI, TN, UT, VA, WA, DC, WI, and WY.
Vitani Mule
Vitani would win the award for sexy 200ml aluminum cans, if there was one. But we included them on this list for their flavor and ingredients.
The Vitani Mule is delicious, light and refreshing, even though it packs 12% ABV. Vitani Mule was winner of Double Gold medal at the 2019 SIP awards, an International Spirits Competition.
The Vitani Mule is made from all-natural ingredients, and also comes in a 750ml package for sharing (or not). The company also offers a series of martinis in equally sexy packaging: Cosmo, Dirty, and Elderpear. Vitani products are currently only available in AZ, CO, IL, and MN. So you'll have to hire a mule if you want it across the border.
Five Drinks Co Moscow Mule
Five Drinks Co used their creativity and natural ingredients to create a wonderful, if slightly unusual, Moscow Mule. This mule wins "most complex" of the group! It's a mellow, hazy yellow color. The smell is amazing! It is the perfect size for a nice cocktail. Hardly any carbonation, but lots and lots of flavor. The addition of mandarin was a stroke of genius.
The company has a full line of RTDs (Margarita, Mojito, Paloma, Gin & Tonic, Watermelon Vodka Soda) and recently launched a collaboration with the bar that was voted #1 Bar in World (Dante NYC). That collaboration includes 3 flavors: Summer Spritz, Americano 2.0, Gin & Tonic. Five Drinks are available in AZ, AR, CA, CO, CT, FL, GA, ID, IL, IN, IA, KS, LA, ME, MD, MA, MI, MN, MS, MO, MT, NV, NH, NJ, NM, NY, NC, ND, OR, PA, SC, SD, TN, TX, VT, WA, DC, WV, WI, and WY.
TGI Fridays Moscow Mule
Thank goodness it's any day of the week. Get ready for a big delicious TGI Fridays Moscow Mule a 5.9%, made with a malt base. This easy drinking crowd-pleaser has little alcohol flavor or warming, with more of a ginger beer flavor.
The company has new flavors and innovation in the works for the reopening of America, coming to a casual dining restaurant near you.
But in the meantime, enjoy a Moscow Mule, or their award-winning Bloody Mary, with broad distribution beyond the walls of the familiar restaurant, in the states of AL, CT, FL, GA, ID, IL, IN, IA, KS, KY, LA, ME, MD, MA, MI, MN, MS, MO, MT, NE, NH, NJ, NC, ND, OH, PA, RI, SC, SD, TN, WA, WV, WI, and WY.
Colorado Mule
You'll love it. The Colorado Mule from Kure's Craft Beverage Company in Loveland, CO, has lots to love. It's made with real craft vodka, blended with Kure's non-alcoholic Ginger Beer and lime. Kure's uses organic ginger that they juice in house.
Like Goldilocks' final resting place for the night, Colorado Mule's found the perfect amount of carbonation. Not so much that it's reminiscent of a seltzer and not so little that it feels like it didn't get invited to the party. It's a very good Mule.
The Colorado Mule is currently distributed by Crooked Stave Artisans in Colorado and Heartland Beverage in Illinois, but we're sincerely hoping for broader distribution soon.
Moscow Mule by the Hard Mule Seltzer Co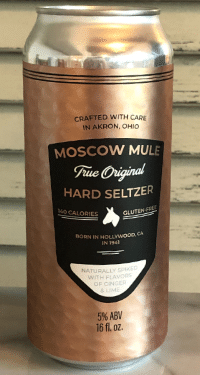 This Moscow Mule, named the Moscow Mule, from the Moscow Mule company was an introduction to a new brand that will be available beyond Ohio in 2021.
At 5% and made with fermented cane sugar, the "true original" Moscow Mule will be joined by a full lineup of Moscow Mule-themed seltzers early next year.
You definitely taste the alcohol and so easy to go slow and sip. When you want something that tastes genuine and not sweet, turn to this tall can of Moscow Mule.
For now, you'll have to pack up your mule and head to R. Shea Brewing taprooms in Akron, OH, where Ron and the crew will serve up lagers and ales alongside the Moscow Mule. Bring only $2.50 to try a 6-ounce pour.
Monaco Moscow Mule
Monaco Craft Cocktails has produced a fine Moscow Mule, and packaged in a beautiful can. This Mule is a nicely balanced combination of vodka, ginger, sweetness and carbonation. The vodka is 6X distilled and blended with ginger beer. At 9% ABV, you know you're drinking a real, premium cocktail.
We only regret that this Mule creates a dilemma: you could pour over ice, giving it a true craft cocktail experience, but that means you won't be holding and enjoying the beautiful can. We still opted for the pour-over, giving our noses the sweet tingle of ginger beer.
Monaco currently distributes to AK, AZ, AR, CA, CO, CT, DE, FL, GA, ID, IL, IN, IA, KS, KY, LA, MD, MA, MI, MN, MO, NE, NV, NJ, NM, NY, ND, OH, OK, RI, SD, TN, TX, WA, DC, and WI.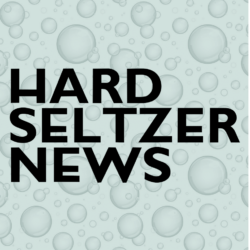 Latest posts by Hard Seltzer News
(see all)