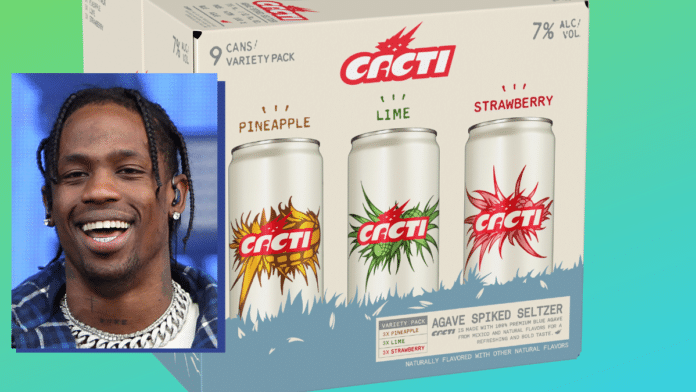 It's official: Anheuser-Busch was chosen by Travis Scott's team to launch the new CACTI hard seltzer, and shipments will begin in the Spring of 2021. Anheuser-Busch (NYSE: BUD) cemented plans, squelched rumors, and provided insight via a press release today.
As previously reported by Hard Seltzer News, the new canned hard seltzer was developed with close supervision and creative input by Travis Scott.
Today's release confirmed the arrangement, timing of shipments, and gave new details about the flavor.
Down to earth ingredients. Out of this world flavor.
The flavors include lime, pineapple, and strawberry, all made with agave spirits, inspired by Scott's love for tequila. The seltzer comes in at 7% ABV and will be initially sold in 12 ounce cans and 9-pack mix packs. 16 ounce and 20 ounce individual cans are also planned.
The 100% premium blue agave for the product will be sourced from Mexico.
Give the people what they want.
"We are all about delivering what consumers want, and as a culture-shaping artist, Scott is incredibly connected to his fans and what's new and next in culture," said Fabricio Zonzini, President of Beyond Beer at Anheuser-Busch. Zonzini oversees the non-beer business unit, established in 2018. Products in the portfolio range from water to whiskey.
The launch of CACTI is testament to Zonzini's commitment to being agile in the marketplace, responding to consumer demand. It is possible that the success of hard seltzer as a category is attributed to the lack of certain beer companies to listen to the consumer.
Even Ray Daniels, Founder of the Cicerone program, and President of the Craft Beer Institute, suggested the possibility in a tweet earlier this year. "Thought occurred to me recently that seltzer was necessary for consumers to get alcohol in an easy drinking formulation, you know, like beer used to be!" he said.
Between now and the product's availability in 2021, A-B will focus on building consumer demand, in hopes of a successful launch in the likes of McDonald's Cactus Jack Meal. It was such a hit that restaurants reported running out of burger ingredients. A large part of Scott's endorsement revenue for that launch came from branded merchandise.
No word yet on plans for CACTI hard seltzer jeans, t-shirts, and slim-can-shaped body pillows, but wouldn't that be interesting?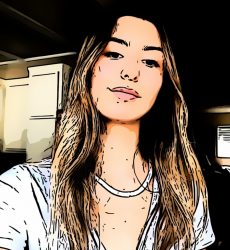 Latest posts by Caroline Hill
(see all)