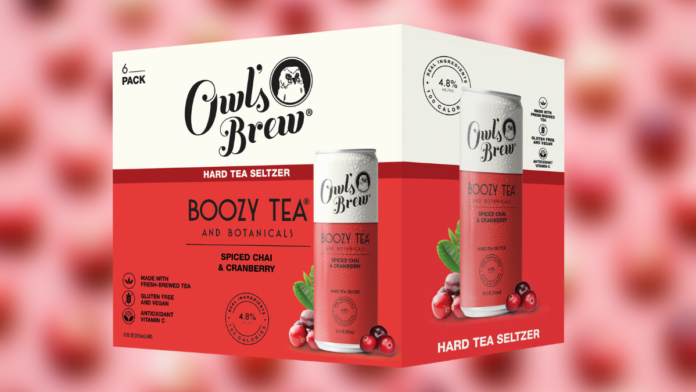 Owl's Brew has launched a limited edition Spiced Chai & Cranberry Boozy Tea just in time for the holidays. The brand that challenges consumers to "drink wise" launched its new fall flavor on October 1.
According to Owl's Brew, its Spiced Chai & Cranberry spiked sparkling tea "was inspired by traditional mulling spices, and is made with a fresh-brewed organic tea blend comprised of chai spices, cinnamon, ginger, cloves, cardamom with apple and cranberry…The result is a deliciously refreshing and bubbly boozy beverage perfect for sipping all throughout the fall and holiday season."
The festive hard tea is spice-forward in both flavor and aroma. Chai simply translates to "tea" in Hindi, but is often recognized as the traditionally Indian blend of spices used to brew a perfectly flavored cup. Unlike traditional chai, which often features milk and sugar, the Owl's Brew Spiced Chai & Cranberry Boozy Tea does not contain a creamy aspect. Instead, the drink's cranberry flavors blend with its herbal accents to create a crisp, tart base that goes down smooth.
Owl's Brew's new Spiced Chai & Cranberry flavor joins its growing portfolio of hard tea seltzer varieties alongside English Breakfast Tea with Lemon and Lime, Darjeeling Tea & Hibiscus Flowers, Jasmine, Blueberry & Lemon, White Tea, Raspberry & Watermelon, and Matcha, Chamomile & Pineapple.
All of the brand's flavors are brewed with organic tea, botanicals, 100% real ingredients, and an ABV of 4.8%. The Spiced Chai & Cranberry variety contains only 110 calories. Owl's Brew can be purchased at Whole Foods, Publix and Trader Joe's locations in select states, as well as online via hard tea brand's website and delivery sites such as Drizly and goPuff.
"We couldn't find a great boozy beverage made with only clean ingredients so we decided to make it ourselves, using fresh-brewed tea as a base," explained Owl's Brew founders Jennie Ripps and Maria Littlefield.
Ripps and Littlefield know a thing or two about tea. Ripps is a tea sommelier and in addition to being a co-founder and the CEO at Owl's Brew she is also the founder of Brew Lab Tea, "a NYC-based company that specializes in crafting custom tea blends for restaurants, coffee-shops, hotels, and fast-casual concepts." Littlefield is a co-founder and the COO at Owl's Brew, as well as a partner at Brew Lab Tea. She also earned a coveted place on Forbes' 30 Under 30 list.
"We want to be what clean beauty is in the alcohol space," described Ripps, "In that industry, there's such a major lack of transparency in packaged goods—particularly with alcohol, there are so many cryptic descriptions or varieties. What are you even drinking? Real raspberries aren't clear. Why is your raspberry seltzer?"
The founders are passionate about brewing the highest quality boozy beverages with a well-balanced blend of botanicals. Owl's Brew Spiced Chai & Cranberry Boozy Tea is no exception. The holiday-ready hard tea joins the brand's family of sparkling hard teas for a limited time only.
Ripp and Littlefield insist, "We believe that people deserve to drink beverages that are crafted with care and made with real ingredients. That's why we created Owl's Brew…Don't take our word for it, crack open a can of our spiked and sparkling Boozy Tea and taste the difference real makes."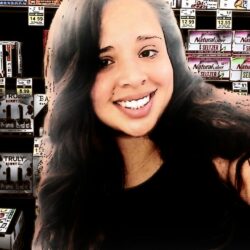 Latest posts by Shirani Jayasuriya
(see all)