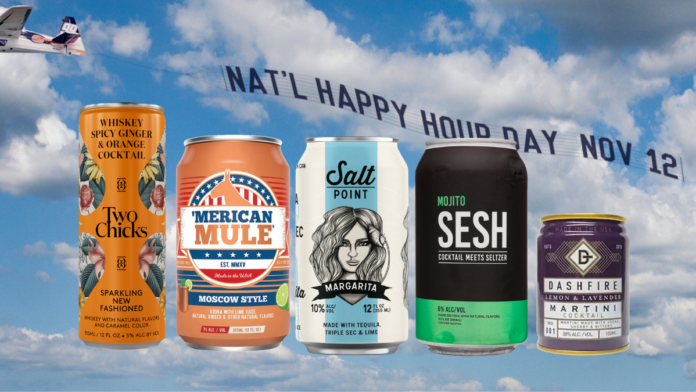 The holiday season is arriving sooner than expected. National Happy Hour Day is Friday, November 12, and this year we're not wasting time mixing drinks. We're celebrating ready-to-drink (RTD) style with bar-quality canned cocktails.
"Happy Hour" is thought to have originated around the turn of the century as the title of an entertainment program for sailors in the US Navy. It was later used as a code word for drinking during Prohibition. Friends would use the term "Happy Hour" as a secret way to discuss gathering for a drink, an event that would often take place at the local speakeasy before dinner time. The Happy Hour ritual is still alive and well today. People around the country flock to bars after work to socialize and enjoy food and drink specials between the hours of 5 PM and 7 PM.
A recent report by Nielsen found the five most popular cocktails consumed during early evening (aka Happy Hour) were Margaritas, Martinis, Old Fashioneds, Moscow Mules and Mojitos. This Friday, mix things up with a RTD version of one of Happy Hour's best sellers. Below are five canned cocktails, one for every drink category mentioned in Nielsen's report, to consider when you toast to the happiest hours of the day.
Salt Point Margarita
Salt Point, a canned cocktail brand based in Northern California, expanded its portfolio with a new RTD margarita in July of this year. Salt Point's margarita is crafted with Blanco tequila produced from Blue Weber agave as well as "house-made triple sec, lime, and just the right amount of carbonation." The company insists, "It all adds up to a premium, top-shelf Margarita that's down for anything."
Salt Point's margaritas come in 12 ounce cans, each featuring 2 full cocktail servings and an ABV of 10%. Consumers can purchase Salt Point products in select states or online via the company's ecommerce site. The brand also produces RTD Moscow Mules, Greyhounds, and Gin Highballs, all made with real spirits. Salt Point insists it is "committed to quality ingredients and the finest of spirits."
Dashfire Lemon & Lavender Martini
Dashfire's Lemon & Lavender Martini is crafted with real vodka, sherry, lemon bitters and lavender bitters. The premium RTD cocktail comes in a single-serve 100 milliliter sized can and contains an impressive ABV of 38%. The company explains, "Our Martini stands apart from the rest. With subtle sweetness and an elegant aroma from lemon and lavender bitters, this is a classic with a twist."
The folks at Dashfire believe "having a canned cocktail doesn't mean it has to be compromised or lacking in flavor." According to the company, "These cocktails are crafted with the same care and attention you find at your favorite craft cocktail bar. We have put so much effort into preserving the cocktails' original form but also making it our own and doing so with ingredients that can stand the test of time."
Minnesota-based Dashfire was founded by married couple Lee and Dawn Egbert in 2013. Dashfire now features a diverse portfolio of canned cocktails, spiked RTD coffees, liqueurs and bitters, all made with flavors inspired by Lee's world travels.
Two Chicks Sparkling New Fashioned
Two Chicks is reinventing an old classic. The female-owned canned cocktail brand has "updated the classic Old Fashioned." The brand's CEO, Linda Dow Cash, described the Sparkling New Fashioned in an exclusive interview with Hard Seltzer News, "We used a spicy whiskey and added some ginger and a twist of orange into it to make a real savory, upscale New Fashioned of the Old Fashioned." Each 12 ounce slim can of the spirit-based cocktail contains 2 servings and an ABV of 5%.
The founder of Two Chicks Cocktails, Meghan Hanna, along with the brand's CEO, Dow Cash, have a winning beverage in their Sparkling New Fashioned. The canned cocktail has won numerous awards such as a gold medal from the Proof Awards, a gold medal from the Beverage Testing Institute, and a USA Today Readers' Choice 10 Best Award, among others. Two Chicks' repertoire of RTD cocktails includes eight unique cocktails crafted with vodka, tequila, gin and whiskey and an array of premium ingredients.
'Merican Mule Moscow Mule
If you want a proper Moscow Mule, you seek out a company dedicated to perfecting the cocktail. The team at 'Merican Mule is committed to doing just that. The brand currently makes five kinds of canned mules including a traditional Moscow Mule, a Mexican Mule, a Tropical Mule, a Southern Mule and a seasonal Pumpkin Mule.
As for 'Merican Mule's Moscow Mule, the cocktail "delivers a balanced flavor. Refreshing on the pallet when ice cold." According to the company, the "cocktail is a fit for any occasion, with a smooth finish." The original Moscow Mule is made with 4x distilled vodka, fresh lime juice and natural ginger. All of the brand's cocktails feature an ABV of 7% and high quality ingredients.
"We kinda said we're really not going to stop on this first iteration of formulation until it's absolutely perfect and it tastes like a next-generation ready to drink to where it knocks people's socks off," 'Merican Mule's co-founder, Dean Mahoney, said in an exclusive interview with Hard Seltzer News.
SESH Mojito
"All beach, no sand. That's what's inside this can,' SESH says of its Mojito. "That, and a bold, flavorful combo of mint and lime. It's for the spirited type who wants to kick off a party or kick off the flip flops. Either way, kick back and enjoy."
SESH has successfully created an innovative line of "cocktail meets seltzer" beverages. The drinks focus on taste but unlike traditional cocktails, they aren't full of calories and sugar. SESH's Mojito comes in a 12 ounce can and contains 120 calories, 1 carb, zero sugar and an ABV of 6%. SESH's mindful ingredients are of particular importance to the brand's co-founder, Nate Medow, a college athlete and Type 1 diabetic in search of a quality cocktail aligned with his lifestyle and priorities.
"By creating next generation products that connect with our consumers across different occasions, we are inspired to ensure that people never have to compromise between great flavor and better for you ingredients." founders Zeke Bronfman and Nate Medow explained.
SESH produces several "cocktail meets seltzer" beverages including a Moscow Mule, a Gin & Tonic, a Paloma and, of course, a Mojito. All varieties are low in calories and carbs and contain no sugar. SESH is determined "to deliver a more authentic product and aligns with consumer macro trends: health and wellness, premium, and purpose driven products."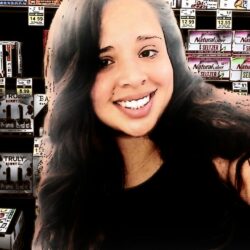 Latest posts by Shirani Jayasuriya
(see all)