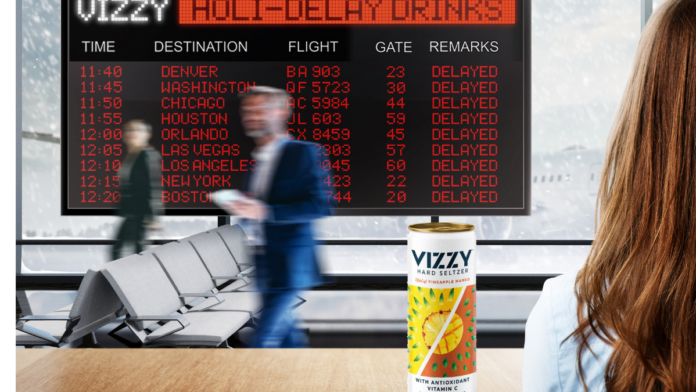 There's nothing festive about being stuck in an airport during the holidays. Unfortunately, for many travelers, flight delays will be a sad reality this season. Vizzy Hard Seltzer hopes to make flying a little more merry and bright for folks facing extra time at the airport during the busiest travel days of the year.
The Molson Coors seltzer brand will be giving away 5,000 gift cards to travelers whose flights have been delayed between December 21 and 23 of this year. Each gift card is loaded with $8 good towards the purchase of Vizzy products. Weary travelers can enter proof of their delays at vizzyholidelaydrinks.com for the opportunity to earn a gift card.
"With flight delays and staff shortages, airline travel can be quite stressful this year. Vizzy's a brand that always tries to bring positivity, so we want to make the most of a bad situation and spread holiday cheer when people need it most," explained Carol Krienik, Vizzy's Associate Marketing Manager.
Vizzy also has a special treat for travelers passing through Chicago Midway International Airport and Denver International Airport during the hectic holiday week. The brand will be hosting pop-ups at airport bars in both cities. The bars will be covered in Vizzy décor and bartenders will be offering samples of the hard seltzer's lineup to folks of legal drinking age. In Denver the Vizzy pop-up will take place on December 22 near gate G29. In Chicago the pop-up will be held on December 23 near gate A7.
"We hope consumers who have never tried Vizzy before will stop in for a drink on us," stated Krienik.
Molson Coors launched Vizzy Hard Seltzer in April of last year. The brand has performed impressively over the past year and a half, recently securing the #4 spot in the US hard seltzer category. The alcohol beverage company also distributes Topo Chico Hard Seltzer as part of an agreement with the Coca-Cola Company. Molson's CEO, Gavin Hattersley, recently pointed out that his company is home to "the fastest-growing hard seltzer portfolio in the United States."
Vizzy has grown quickly during its time on the market, expanding its portfolio to include a second variety pack, a lemonade variety pack and a watermelon variety pack. The hard seltzer is loaded with vitamin C from acerola, a superfruit also known as the Barbados Cherry. Each 12 ounce can contains 100 calories, only 2 grams of carbs, no more than 1 gram of sugar and an ABV of 5%. Vizzy is certified gluten free.
Vizzy's flavor combinations include Strawberry Kiwi, Blueberry Pomegranate, Black Cherry Lime, Pineapple Mango, Watermelon Strawberry, Raspberry Tangerine, Papaya Passionfruit, Blackberry Lemon. The brand's lemonade variety pack features Raspberry Lemonade, Strawberry Lemonade, Peach Lemonade, and Watermelon Lemonade varieties, while the watermelon variety pack boasts Passionfruit Watermelon, Kiwi Watermelon, Blueberry Watermelon and Mango Watermelon offerings.
"People keep coming back to Vizzy," Krienik insisted. "They love our flavors, the inclusion of antioxidant Vitamin C and the little bit of brightness Vizzy brings."
If your holiday travel plans are altered by flight delays, make the best of a bad situation and gift yourself a free Vizzy Hard Seltzer.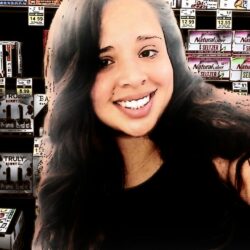 Latest posts by Shirani Jayasuriya
(see all)