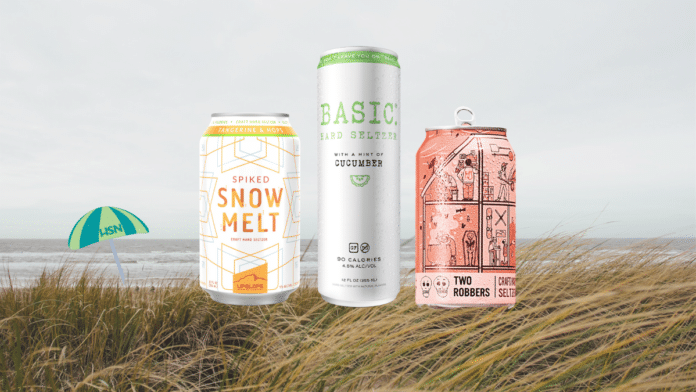 It's time to enjoy the "fruits" of your labors.
As the strange "summer" (can we even call it that?) of 2020 draws to an end, Labor Day Weekend is upon us. A time usually reserved for cookouts, parties, and fun with friends and family, this year we find ourselves under quarantine, the bars and parks and beaches mostly closed. But life goes on, and Labor Day is still Labor Day. So while you might not be able to do exactly what you want this go-around, you can still drink some delicious hard seltzers to commemorate the end of the season.
Here are three summertime flavors to say farewell to the warmer months:
Upslope Brewing's Spiked Snowmelt – Tangerine and Hops
Upslope Brewing Company, based in Boulder, Colorado, espouses an intense love for the outdoors and all things nature. This company ethos can be tasted in their Spiked Snowmelt line of hard seltzers. As per their website: "The decision to launch into this category remains in line with Upslope's love for the outdoors and our dedication to delivering palatable craft beverages perfectly suited for those après moments. . . . Gluten free and lightly flavored using only natural ingredients, it provides the perfect companion for health conscious drinkers living the active outdoor lifestyle."
While they offer a variety of delicious flavors like Juniper & Lime and Pomegranate & Acai, their Tangerine & Hops flavor has the perfect amount of crisp citrus and vibrant hops to make any sweltering day feel much cooler. They've also released an "Electrolyte Series" of electrolyte-infused hard seltzers to keep you going on your boozy backpacking trips. Find out more here.
Basic Hard Seltzer – Cucumber
If you've ever juiced a cucumber you know that they are basically water with a hint of cool, refreshing, barely sweet fruit flavor. Basic Hard Seltzer's cucumber seltzer is similar: refreshing, cool, and just barely sweet. This is the kind of hard seltzer that seems as hydrating as water when you're out mowing the lawn, pulling weeds, planting a garden, or even just sitting on your porch with the mid-day sun overhead. Basic is a hard seltzer company that believes that keeping it sweet and simple is the best way to go through life. Other flavors include cranberry, pamplemousse, and lemon. Find out more and locate some here.
Two Robbers – Peach Berry
Our third Labor Day choice is on the fruitier end of the spectrum, and perfect for sunset or poolside drinking. Two Robbers Brewing only makes hard seltzer, and their passion comes through in flavor like Peach Berry: "Our Peach Berry offers a brilliant balance of fresh white peaches on the aroma, with a variety of fresh berries dominating the taste. Catch notes of blueberry, raspberry and strawberry on the finish of this crystal clear hard seltzer." Not only are their seltzers delicious, the artwork on their cans is also worth checking out. Find out more here.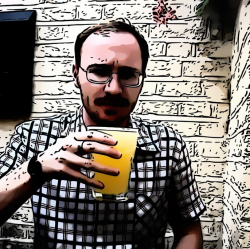 Latest posts by James Granatowski
(see all)