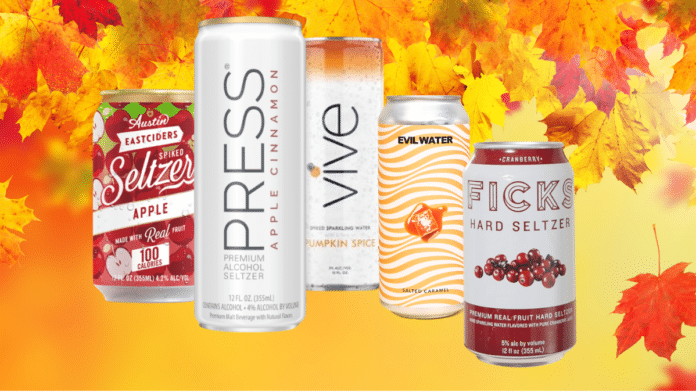 Today is the first day of autumn. Are the hard seltzer companies ready?
After a very strange summer, the fall season is upon us at last. For many, the fall means change: the leaves change, the weather changes, and we exchange our tank tops for sweaters. The fall also ushers in the holidays, bringing friends and families together to eat and drink and make merry.
It goes without saying that the autumn and winter months are exciting for drinkers of all stripes for the seasonal releases that these cooler days bring. Beer and cider companies have always brought in new and exciting fall flavors not available in the spring and summer. All of this change begs a question: are the hard seltzer companies ready to change up as well? Will they too bring us new flavors we associate with the season?
VIVE Pumpkin Spice
Some brands, it turns out, plan to or already have. VIVE Hard Seltzer, for instance, is set to release their Pumpkin Spice Hard Seltzer this month. From PR Newswire: "Looking at the category, VIVE found an opportunity to play on the seasonal success of consumer tastes in other alcoholic beverages. With the launch of Pumpkin Spice Hard Seltzer, VIVE has created a distinctly refreshing version of a highly anticipated flavor profile." Now it's not just lattes and pies will give us our pumpkin fix this fall. Read our article on VIVE Pumpkin Spice Hard Seltzer here.
Ficks Hard Seltzer
Cranberry hard seltzers have been popping up as well, with offerings from big companies like Bud Light and craft operations like the increasingly-popular real-fruit-using Ficks. "Ficks Cranberry Hard Seltzer is bittersweet in the best way," their website reads. "Real cranberry juice floats up among a bevy of bubbles like cranberries in a bog to deliver authentic taste in every sip." If you're a fan of cranberry sauce as well as hard seltzers these just may be the fall drinks for you.
Evil Water Hard Seltzer
Evil Twin's Evil Water hard seltzer brand boasts several fall-flavored offerings as well: marshmallow, maple, apple & cinnamon, salted caramel, plum & almond & cinnamon, and even chocolate egg cream, just to name a few. Their Maple "Pastry Hard Seltzer" is described as "Fermented on maple syrup. Tasting notes of toffee, maple, and subtle oak. Light bodied. Effervescent. Dry." Many of these flavors conjure up the feeling of fireside chats, chilly sunsets, and raking up wet leaves, if you're into those sorts of things. You can check out their Evil Water offerings here.
Austin Eastciders Spiked Seltzer
Austin Eastciders, a maker of both hard ciders and hard seltzers alike, offers an Apple Spiked Seltzer they include in a spiked seltzer variety pack. From their website: "Our Apple Spiked Seltzer is a lightweight and full-bodied seltzer matching the flavor of a Northern Spy apple with its undertones of fresh citrus. This effervescent seltzer is low in sugar but high in apples." It's not hard to imagine drinking one of these while feasting with friends and family.
PRESS Premium Alcohol Seltzer
PRESS, one of the largest independently-owned seltzer companies, has also released a limited-edition fall-themed Apple Cinnamon Hard Seltzer. From Trend Hunter: "The Apple Cinnamon hard seltzer is the perfect drink to relax and unwind with this fall. The drink features all-natural ingredients and the hard seltzer's juicy apple notes are complemented with robust hints of cinnamon for a delicious and invigorating beverage." They also have flavors like Pomegranate Ginger and Pear Chamomile to warm your heart and belly as the air turns crisp. You can find these offering using the store locator on their website.
Old Bust Head Brewing Hard Seltzer
Old Bust Head Brewing, based in Vint Hill, Virginia, has also joined the mix of craft brewing companies both jumping into the world of hard seltzers and creating fall-flavored concoctions. Take for instance their Cherry Vanilla Hard Seltzer, made with black cherries and vanilla extract. They also have a Cranberry Lime Hard Seltzer. "This latest addition to our seltzer line-up might be the easiest to drink and the hardest to put down," their website states. "We added heaps of cranberry puree for color and a touch of dryness and tart limes to keep things bright and refreshing." The Cherry Vanilla option especially sounds like a delightful addition to football games and group dinners.
As the world of hard seltzers continues to grow, and in particular as more and more craft breweries get into the seltzer game, there's virtually no limit to the potential of new, season-appropriate flavors and limited releases to appear in the coming weeks and months. As the tradition continues, we'll likely (and hopefully) be seeing new varieties even when the winter season arrives. Who doesn't want more seasonal flavors like nutmeg and pecan to appear in hard seltzer form? We know we do.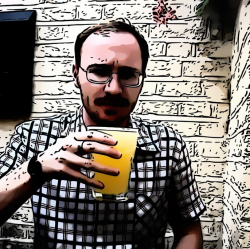 Latest posts by James Granatowski
(see all)