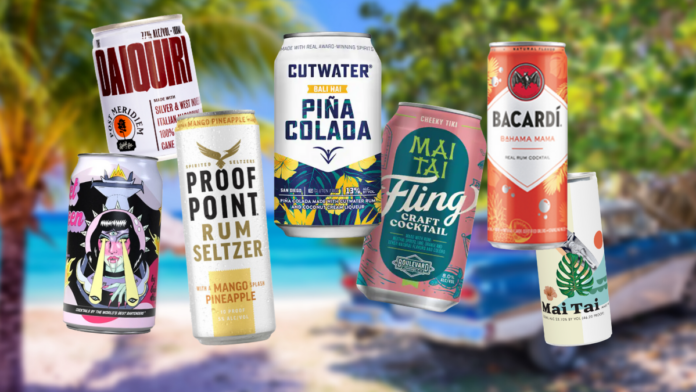 National Rum Day is Monday, August 16. Everyone knows the proper way to celebrate a rum-inspired holiday is at the beach. However if you find yourself stuck at home, sipping one of these seven ready-to-drink (RTD) cocktails will transport your senses to the most tropical of destinations.
Presenting 7 great canned cocktails made with rum for 2021 National Rum Day!
Post Meridiem No. Four Daiquiri
Post Meridiem's award-winning twist on the classic Cuban cocktail features real ingredients "fine tuned by real mixologists to create perfectly balanced drinks."
The No. Four Daiquiri, which received medals at both the San Francisco World Spirits Competition as well as the SIP International Spirits Competition, comes conveniently packaged in a compact can that stands less than 3 inches tall.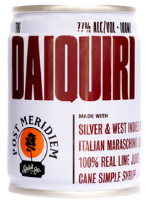 However, don't be fooled by its size. A can of Post Meridiem No. Four Daiquiri contains a full serving of the cocktail and packs a punch at 54 proof, with an ABV of 27%, The cocktail features Silver & West Indies Rum, Italian Maraschino Liqueur, 100% real lime juice, and cane sugar syrup. This cocktail will take you back to vintage Havana.
In addition to the No. Four Daiquiri, Post Meridiem also crafts a 1944 Mai Tai cocktail with a blend of Caribbean rums.
Fling's Mai Tai
Fling Craft Cocktails were launched as an extension of Boulevard Brewing Company in 2019.  The Kansas City-based company warns its Mai Tai might cause you to "fling yourself to an island paradise where the rules are weak, the drinks are strong, and Hawaiian shirts are essential."
The Fling Craft Cocktail Mai Tai is a tropical treat featuring natural orange and lime flavors, as well as almond, spice and rum from the Virgin Islands.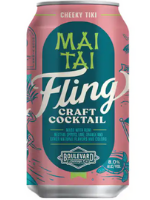 A 5 ounce serving contains 82 calories, 3 grams of sugar, 4 carbs and an ABV of 8%. The premium drink comes packaged in 12 ounce cans. 
Fling's line of real spirits canned cocktails also includes Blood Orange Vodka Soda, Margarita, Rye Whiskey Mule, Vodka Lemonade, Botanical Gin and Tonic and a Mojito, which like the Mai Tai, includes rum.
Bacardi Sunset Punch, Mojito and Bahama Mama
Bacardi is, undoubtedly, a leader in the global rum category. In fact, according to the company, Bacardi is the "world's most awarded spirit, with more than 900 awards for quality, taste and innovation." Recently Bacardi expanded its portfolio of premium rum-based RTD canned cocktails, doubling its lineup from three to six.
The new offerings include Bacardi Sunset Punch (with Blood Orange, Ginger and Lemon), Mojito (with Fresh Lime, Mint and Sparkling Soda Water) and Bahama Mama, which features "a blend of exotic fruit flavors and hints of orange, red berries and pineapple."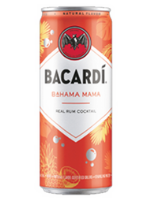 All of the new cocktails contain a real rum base of Bacardi Superior and an ABV of 5.9%. Bacardi's RTD rum cocktails provide year round beachfront vibes.
Bacardi's RTD cocktail repertoire also includes Limon & Lemonade, Lime & Soda and a classic Rum Punch, all of which are rum-based.
Cutwater Spirits' Bali Hai Piña Colada
If you like piña coladas, Cutwater Spirits' Bali Hai Piña Colada offers a delightful tropical escape.
The canned cocktail is crafted with the company's own brand of rum, notes of sweet pineapple and creamy coconut liqueur. Each 12 ounce can contains an ABV of 13% and Cutwater's Bali Hai Tiki Gold pineapple flavored rum.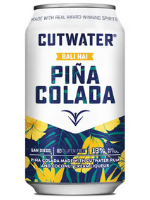 Cutwater Spirits is "the most awarded canned cocktail brand", boasting more than 1,100 awards across its diverse portfolio. The company is also home to a Tiki Rum Mai Tai, a Long Island, a Rum Mojito, a Rum & Cola as well as a Rum & Ginger. In addition to its rum cocktails, Cutwater has a large selection of canned cocktails made with real tequila, vodka, gin and whiskey.
Proof Point Rum Seltzer
Molson Coors launched Proof Point Seltzer in May of this year and the brand has already gained the attention of some big name celebrities. Multi platinum rapper Meek Mill posted a video from his birthday celebration in a sunny destination featuring beach fun, palm trees, pools and, of course, Proof Point. Grammy-nominated hip-hop producer jetsonmade and filmmaker Terrence J have also been seen enjoying Proof Point Seltzers.
Proof Point Rum Seltzer features real Caribbean rum as well as a "mango pineapple splash" of real juice. The seltzer is a lighter RTD choice than most canned cocktails, weighing in at only 100 calories, 5% ABV, and zero sugar.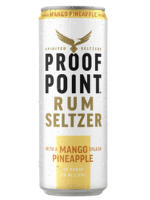 Proof Point also makes a Vodka Seltzer, a Whiskey Seltzer, and a Tequila Seltzer, all featuring real spirits.
Proof Cocktail Company's Mai Tai
Proof Cocktail Company's Mai Tai comes with all the necessary ingredients to daydream of sandy shores and ocean waves. The Los Angeles-based company is expanding its distribution and can currently be enjoyed in California, Colorado and Tennessee.
Proof Cocktail Mai Tai is a bar quality canned cocktail featuring premium ingredients such as West Indies Silver Rum, rum aged in American bourbon barrels, organic orgeat, curaçao, real lime and orange juices, as well as pomegranate grenadine.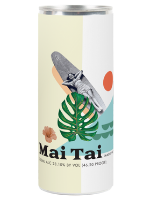 The small batch Tiki-inspired cocktail contains an ABV of 23.10%.
Adam Glatt, who founded Proof Cocktail Co. in 2016, explained, "I spent years smuggling various liquors, mixers, syrups and bitters into all of the places that glass was not allowed. I questioned, 'why is no one making a bar quality cocktail in a can' and that is when the light bulb went on."
LiveWire Cocktail Company's Rocket Queen
LiveWire's newest creation, the Rocket Queen, is inspired by the Jet Pilot, a classic Tiki cocktail. The canned cocktail contains Magdalena Rum, cinnamon, absinthe, red pomelo and pandan, a tropical plant with aromatic leaves.
Rocket Queen is named after a Guns & Roses song, features artwork that looks like it belongs on a campy 1950's horror movie poster, and contains an ABV of 7.5%. What's not to love?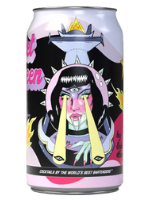 Nothing shows off a good rum quite like a Tiki recipe and Rocket Queen's creator, Erin Hayes, knows a thing or two about Tiki. Hayes is the former bar manager of Chicago's award-winning Tiki bar, Lost Lake. The mixologist co-wrote the bar's menu in 2018, the same year it was named "Best American Cocktail Bar."
Hayes also formerly led the bar at Three Dots and a Dash, another iconic Chicago Tiki spot. Hayes stated, "I'm excited to convert people who might typically go for classics like a Moscow Mule or a Paloma into rum fans with this cocktail!"
Which of these RTD cocktails will you be enjoying on National Rum Day and what tropical location will you be dreaming of while you sip?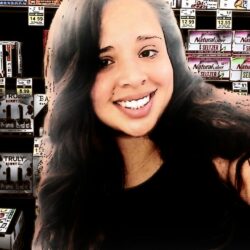 Latest posts by Shirani Jayasuriya
(see all)